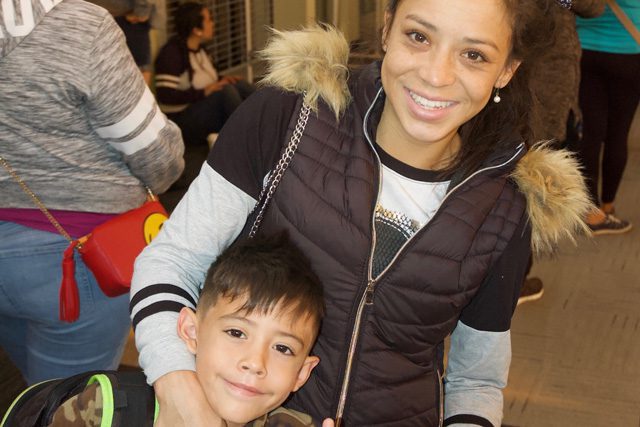 Back-to-school event helps mother and son
By Sydney Fong –
Recently, 6-year-old Akilles started the first grade. He has new clothes, school supplies and a backpack, and it's all because of the back-to-school shopping event at The Salvation Army Santa Rosa Corps.
"He was really excited, and he was really thankful," said Mauren, Akilles' mother. "I was grateful for him to go to school without worrying about what I could afford."
Mauren is hoping the new school year might signal a fresh start for the family.
Last October, she and Akilles were one of the many Santa Rosa residents affected by the Tubbs Fire. The blaze destroyed 37,000 acres and 5,600 structures. At the time, it was the most destructive wildfire in California history.
"We lost our home and everything in our home," Mauren said. "I had to stay in a hotel for three months. That was a humbling experience."
On top of that, she couldn't find work because her kidneys were failing and in need of a transplant.
Earlier this year, Mauren and Akilles finally moved into an apartment, but Mauren knew the rent would catch up, so she went to the the Santa Rosa Corps seeking help. There, she received rental assistance for a couple months through the Long-Term Assistance Recovery Program (LTARP).
The LTARP started in February, supporting fire victims with everything from rental assistance to medical to household items. So far, more than 150 families have applied and received assistance.  
"We have seen a large number of people whom we've never seen before," said Vern Thompson, lead caseworker for Santa Rosa Corps' LTARP. "But Mauren stood out to us. She's taking care of a little boy and is going through these health issues and couldn't find any work. That's a lot to handle."
After receiving the rental assistance, Thompson also helped Mauren and Akilles sign up for the back-to-school shopping event.
"It was meaningful to see the community come through for someone like my son, a person they don't know," Mauren said.
The blessings also extended to Mauren herself. In early July, she found a match for a new kidney.
"I had the surgery and I'm recovering," she said. "I feel good, so I'm looking for work now."
Thompson knows that's the type of good news the Santa Rosa area needs.
"It's just a situation that's much more special and heartwarming, and we're hopeful she has turned the corner."