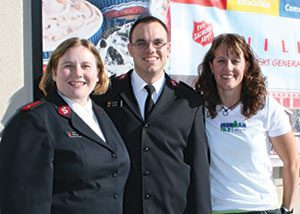 Army's active in Anchorage
As iron sharpens iron…
Anchorage Adult Rehabilitation Program holds 4th annual sobriety banquet.
The Salvation Army's Anchorage (Alaska) Adult Rehabilitation Program (ARP) celebrated its 4th annual Sobriety Banquet Sept. 1, 2010, at Anchorage's Kincaid Park Recreation Center.
The annual event recognizes the accomplishment of program beneficiaries and the relationship of support they build with one another both in the program and after they complete the residential program and move back into the community. This year's theme—As iron sharpens iron, so one man sharpens another (Proverbs 27:17)—spoke to these relationships.
Giving the keynote address was Superior Court Judge Stephanie Joannides, who was involved in establishing Anchorage's Therapeutic and Drug Courts. Two ARP graduates presented compelling testimonies, speaking of the life-saving transformation they have experienced through the ARP ministry. John Boles was recognized as Alumni of the Year and Ron Howard as Volunteer of the Year—both have provided uncounted hours and substantial support to the beneficiaries during their years of giving back to the center from which they graduated.
The Salvation Army Anchorage Advisory Council hosted the banquet, with help in planning and preparation from the ARP staff.Triathlete raises funds in Alaska
Local athlete in training chooses The Salvation Army as fundraising recipient. Thanks to the efforts of Shannon Titzel of Anchorage, Alaska, and the Janis Fund Charity Challenge, The Salvation Army's Anchorage Corps Community Center will receive a $15,000 donation.
The Janis Fund, which sponsors triathlons in areas across the U.S., requires every applicant to raise funds for a 501(c) 3 charity while preparing for the competition.
Titzel will enter the Ironman triathlon in Arizona in November 2010 and has designated The Salvation Army in Alaska as her beneficiary organization. She has planned several events to reach her goal of generating the $15,000, among them a fundraiser at Dairy Queen Grill & Chill—with 10 percent of a night's sales going to the Army—and a chili luncheon at her husband's office. As of Sept. 21 she had raised nearly $9,000.
Titzel's choice of The Salvation Army was based on two factors. First, she knew the community center would give the neighborhood access to affordable recreational programs—a cause she is passionate about. Second, while running on local trails, she often saw local homeless people and the camps they live in. Affected by their living and nutritional conditions, she knew it was time for her to get involved.
"My biggest concern is typically centered around when I can fit in my next training run, but realizing there are so many in our community that worry about where their next meal will come from, where they will sleep or how to keep their kids safe, I knew it was time to do something to help," she said.
She believed that supporting the Army would provide aid for both the local community and those living on the streets.
With an expected completion date of spring 2011, the Anchorage Corps' 15,000-sq.-ft. facility will house a gymnasium, 200-seat auditorium, computer lab, library and flexible meeting space.
Corps Officer Lt. Ryan Miller looks forward to the new opportunities the center will offer and thanks contributors like Titzel.
"We are eager to follow in our founder's footsteps in helping people encounter God in meaningful ways while meeting their physical, social, intellectual, emotional and—most importantly—spiritual needs," he said.Jenni Ragland