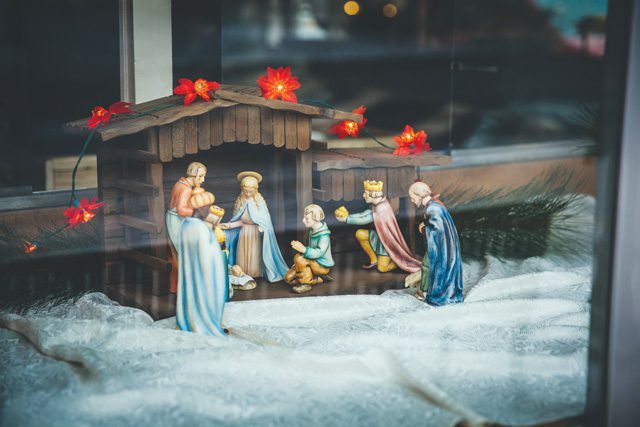 Are you a holy family?
By Jolene Hodder, Commissioner –
They said this would happen. They told me that my life would never be the same, that everything I've ever known would be turned upside down. They predicted that my home would be rearranged, my routine shattered, and my bank account depleted.
Well, now it's happened. And I wouldn't want it any other way.
Waiting for our first grandchild to arrive, I thought I would explode with excitement. So I threw myself into preparation mode. I ordered a mini-crib so that the baby could sleep at Grandma's house at a moment's notice. A linen counter was turned into a "state of the art" changing table. The toy box that our daughter had used as a little girl was scrubbed clean and readied for the next generation of toys. A wooden high chair that had been passed down through several generations was dusted off and inspected, and the much-storied cookie jar from my husband's childhood was filled with cookies. Not that the baby could eat them, of course, but it made us feel good all the same.
In his own way, my husband also got into the act. After assembling the new crib, he proudly announced that no pieces were left over. He googled college savings plans, did a dry run to the hospital to make sure he knew the best route and the ideal parking spot, and even watched a few YouTube videos on bathing techniques for newborns. I immersed myself in the finer points of diaper changing (yes, there are recommended methods!), and I devoured books like Angela Bowen's "Today's Grandmother: Your Guide to the First Two Years." Not surprisingly, of course, all of this preparation simply led to more trips to Babies R Us and a growing sense that we still hadn't done enough to prepare for the big day. That's when I turned myself to preparing for my grandchild's first Christmas.
Pulling out all the Christmas boxes, I came upon one of our many manger scenes. As I unwrapped each piece, it suddenly hit me. There were no grandparents. The Scripture doesn't focus on them, of course, and I can't recall that I've ever heard them mentioned. But they existed, and while they weren't present for the Lord's birth, I'm sure that they played their part.
This thought has stuck with me. As I have prepared my family (including the new baby) for Christmas, I have come to the conclusion that the biblical narrative is ultimately the story of a wider family. Each member of that family—Mary, Joseph, Jesus, Grandma and Grandpa, aunts, uncles, nieces and cousins—is part of that story, and they were all linked together in a way that would fulfill God's will for mankind.
Mary was hand-picked by God to be the mother of Jesus Christ. She was not a woman of great wealth or stature, but she possessed holiness, obedience and faith. Joseph was a man of humility and integrity. He loved his son and was obedient to his God. Jesus was the incarnation of love, sacrifice and submission to his Heavenly Father's plan. And the grandparents? Well, while we might not have definitive information about them, it was they who raised up Mary and Joseph to be the people they became. And for that, we can be grateful.
Isn't this something that all of us should remember? If we live lives that glorify God, then regardless of how insignificant our role in life may seem, we can be assured that he uses it and us for his purposes. That, I think, can give us a bit more understanding of the breadth and depth of the Christmas story. It's a family story that challenges us all to live holy lives, to make choices that glorify God, and to leave a legacy that our children and their children will look back upon with appreciation and gratitude.
Together, as a family, we must love one another, offer grace to one another, and point one another to God. As Pope John Paul II once declared: "the Holy family is the beginning of countless other holy families." May yours and mine be counted among them.
Merry Christmas!