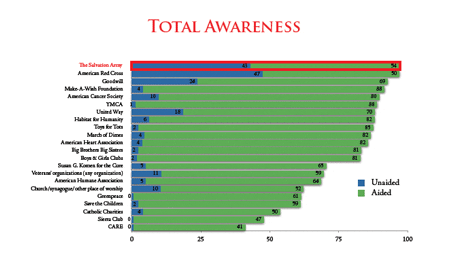 Are people aware of our brand?
More than 2,000 people were interviewed to track the impact and awareness of the "Doing the Most Good" brand promise. The study, conducted by the Richards Group this past spring, found surprising disparities between age groups. The youngest generation interviewed—ages 13-17—was predicted to be the least aware of the brand, when they were actually the most engaged.
Other interesting findings:
Overall, 97 percent of respondents were aware of The Salvation Army.
Among all respondents, 3 percent were aware that "Doing the Most Good" is the Army tagline.
One-third of respondents indicated they had seen or heard advertising for The Salvation Army in the past three months.
The advertising campaign is fulfilling its current objective of reaching potential donors 35 and over.
The 18-24 age group is not as reachable, nor as likely to take action at this life stage as the 13-17-year-olds.
The study concluded that in order to impact the younger target segments The Salvation Army needs to provide more volunteer opportunities—since the younger generation has more time than money. It also recommended that the Army find a way to make local marketing efforts consistent with national ones, to increase awareness of "Doing the Most Good."