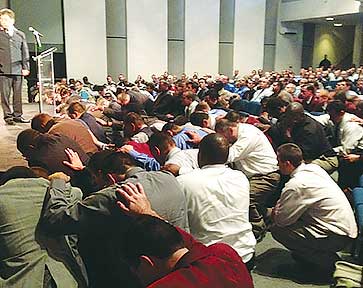 ARC alumni unite, celebrate
By Dalita Lovette
More than 1,300 officers, beneficiaries, alumni and guests of the nine Salvation Army Adult Rehabilitation Centers (ARC) in the southern California area united for an autumn worship service at the First Baptist Church of Lakewood, Calif., to celebrate recovery and give thanks to the Lord.
"The awesome worship and fellowship spent with 1,000 brothers in the program were priceless," said Norman Mackenzie, San Diego ARC program secretary and alumni.
Four alumni shared testimonies––Mallory Justice of the Pasadena ARC, Holly Hiden of the San Diego ARC, Jeremy Alexander of the San Bernardino ARC, and Al Ayala of the Santa Monica ARC—stories of courage and battles with demons, as well as hope and joy.
"It was overwhelming and humbling to be with so many graduates of the Adult Rehabilitation Centers," Ayala said. "It was an encouragement and reminder that we are not alone in this struggle with recovery." He said he would like to reunite with other alumni regularly.
"We need to do it more often to support one another and remind one another that we are on the right path and with God's help we can continue the rest of our lives clean, sober and children of God," he said.
ARC Commander Major Man-Hee Chang closed the service, speaking of change and how it had come about for many of those in attendance.