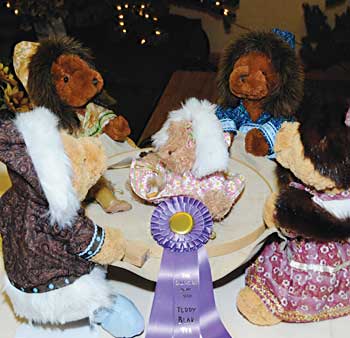 Anchorage finds homes for some bears
Annual tea and auction raises funds for Salvation Army ministries.
Each August, boxes filled with plain teddy bears arrive at The Salvation Army's Divisional Headquarters in Anchorage, Alaska. Some bears are white; others brown. Some are decorated with ribbons; others aren't. However they arrive, within a few weeks, the 200 bears have been distributed throughout the community to be dressed for The Salvation Army's Annual Teddy Bear Tea & Auction, now in its 11th year.
Glenda Burk, a longtime dresser, started as a doll dresser in 1976 for the Women's Auxiliary Doll Tea. Except for a few years when she lived Outside (a term referring to those who don't live in Alaska), Burk has participated every year. She is known for her award-winning displays, like this year's Alaskan blanket toss, selected as the Grand Champion "Best of Show" entry.
Burk, however, doesn't just dress bears. For the past five years she has also organized the participation of her co-workers from First National Bank Alaska in dressing 40 to 50 bear entries. When asked why this has become a longstanding tradition for the bank, Burk said, "It gets you in the holiday spirit and makes you feel good about supporting a great organization."
Most of the bears are matched with donated auction items and sold at the silent auction. Ten bears are offered at live auction with unique items, like lunch for four with Anchorage Mayor Dan Sullivan, presented by Sheila Balistreri, a local NBC news anchor. The mayor's wife, Lynnette, helped auction off the lunch opportunity. When bidding continued between two guests, she spontaneously offered a second lunch for the same price, bringing in close to $1,000 for these items alone.
Thanks to the hard work of the planning committee and the generosity of the more than 400 people attending, the event was a huge success, raising $17,000 for Anchorage area Salvation Army ministries.
Major Sheryl Tollerud, divisional director of women's ministries, said, "I am amazed at the tremendous spirit of caring and generosity shown by this community. From the bear dressers, merchants, Women's Auxiliary and attendees, there exists an Army of people who truly care about others."