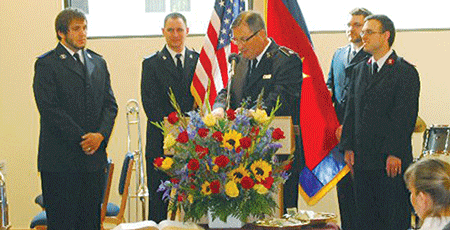 Anchorage dedicates new corps community center
Facility offers new programs and services to community.
By Jenni Ragland
"Building for the Next Generation" defined The Salvation Army Anchorage Corps Community Center's recent dedication, which marked the completion of the yearlong construction of a new corps building. Lieutenants Ryan and Marjorie Miller, corps officers, along with corps members and supporters, welcomed Territorial Leaders Commissioners James and Carolyn Knaggs, who traveled to Anchorage for the dedication.
During the holiness meeting, Knaggs brought the message, referring to Joshua 1:1-8. He reminded the congregation "that while it may seem you're entering the Promised Land with the completion of this beautiful new building, do not lose sight of your mission and remember to always keep focused on what God would have you to do."
The afternoon dedication provided an opportunity to thank community supporters and friends who filled the gym. The Princess Warriors from Southcentral Foundation performed an interpretive dance, "Rise Up Mighty Warrior," to open the service. Noted dignitaries attending included Diane Kaplan of the Rasmuson Foundation, Darrel Hess with the mayor's office, Suzanne Fleek representing U.S. Senator Mark Begich's office and Senator Johnny Ellis, who worked to secure a $1.5 million state capital grant for the project, which is located in his district.
"This facility will be a big help in bringing the community together," said Ellis. "There's been a growing need because of lack of jobs."
In his dedicatory address, Knaggs used the Sunday school chorus, "The Wise Man Built His House Upon the Rock," to illustrate that Jesus Christ is the foundation upon which all our services are offered to the community.
"The Anchorage Corps Community Center represents The Salvation Army's continued investment in Alaska's most precious resource, its people," said Major Doug Tollerud, divisional commander. "It is a place of hope, health and wholeness in Christ!"
The 18,000 sq. ft. building includes The Salvation Army's first gymnasium in Alaska, with six basketball hoops, locker rooms and showers. An exercise room, game room, computer lab, library, multi-purpose classrooms and chapel make the facility ideal for use in corps programming, as well as community outreach.
Listen to a KSKA public radio piece about the center: https://
bit.ly/kihDZV.