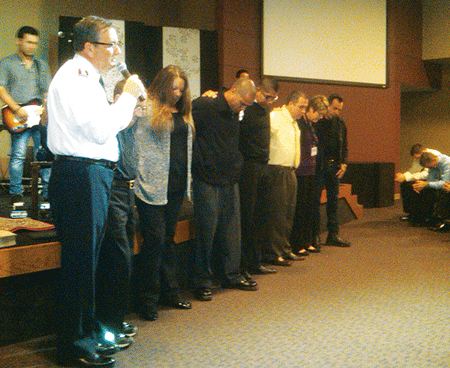 Anaheim Praiseworks Corps enrolls soldiers
Corps succeeds in providing a church home for ARC beneficiaries.
By Aaron Flores
Worshiping the Lord doesn't mean pretending we are not struggling or in pain; in fact, it's our brokenness and desperation that drives us to our Savior.
At the Anaheim Praiseworks Corps—where the congregation comes largely from a recovery program background—we are reminded of this every time we gather.
On Sunday, Nov. 6, families and friends from the Anaheim Rehabilitation Center (ARC) filled the corps to witness several corps members take the next step on their spiritual path by becoming soldiers in The Salvation Army. On hand were Territorial Leaders Commissioners James and Carolyn Knaggs and Southern California Divisional Leaders Lt. Colonels Victor and Rose-Marie Leslie.
"The Salvation Army Anaheim Praiseworks is a great example of a corps that emulates the vision of 'One Army, One Mission, One Message,' as they work together with the ARC for the furtherance of the gospel of Jesus Christ, in both word and deed," Leslie said. "Michael Freeman and the ministry team are doing an excellent job, offering innovative worship and biblical truth in a relevant format. We expect great things from God as they attempt great things for God in bringing the transforming gospel of love and acceptance to those in need."
Knaggs spoke potent words of character and faith, and enrolled the new soldiers: Michelle Black, Daniel Black, Albert Gamez, Tami Moore, Johnny Hulsey, Donald Randall and Sergio Rodriguez.
After the message, seekers filled the front of the church, responding to Jesus. In the midst of this honest worship, transformation began to take root in many souls.
While I led worship, a verse came to mind: Behold, I am making all things new (Rev. 21:5). I looked around, losing myself in the beauty of what God was doing in this room full of admittedly broken people in recovery expressing in their own words, "Have your way, Lord."
The Bible is a story of recovery. It's the heart of God to restore. And for those who have ever been painfully aware of their own human depravity, this is good news.
As the Anaheim Praiseworks Corps moves forward, we look to God to continue shaping us into a compelling community