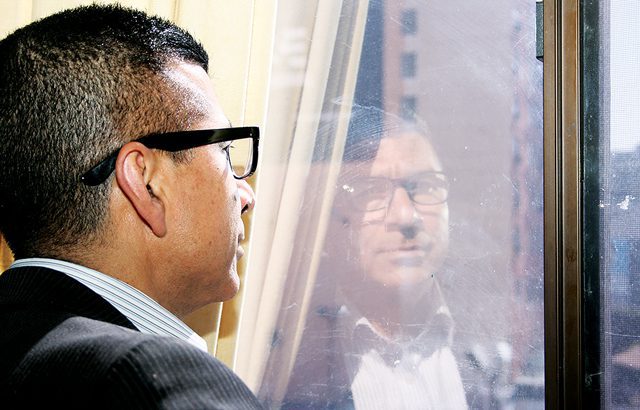 An 'American Dream' reclaimed
By Robert Brennan –
If you had met Jose Reyes just a few short years ago you would have thought he was a man who had it all—a beautiful wife and daughter, a thriving business of his own, and money in the bank. In so many ways, Jose was the embodiment of the American Dream. But his dream was derailed when Karina, his wife, heard the word "cancer."
Chemotherapy and doctors' bills followed and as Reyes put his wife's health care needs first, his business needs suffered. Bills piled up, his once thriving business floundered and just when he thought he turned a corner with his wife's final chemotherapy session, the Internal Revenue Service came calling wanting back taxes and penalties.
In the wake of this economic tsunami, Reyes and his family were living in their car, the bank account depleted and the business gone. They were able to keep their daughter in school but their living conditions required relocating to different grocery store parking lots on a nightly basis.
He did not find himself living in a car because of one solitary act or misstep, and it would take more than one social service agency contact to alter his situation.
It began with the pangs of hunger.
Waiting for their daughter to get out of school, Reyes and his wife's "home" was parked near the St. Francis Center in downtown Los Angeles.
Desperate, Reyes knocked on the center's door. A priest let him in, provided food for the family and understood this family needed more help than his center could provide.
The priest called the Weingart Center for the Homeless, and after a brief interview there the Reyes family was referred to The Salvation Army's Zahn Memorial emergency homeless shelter.
At Zahn, Reyes' family was finally in a safe place. With a roof over their heads, food to eat and stability for their daughter, the only thing left as far as Reyes was concerned was to get back on his financial feet again.
By the time the family's stay at Zahn came to a close, Reyes found gainful employment in a bank where, as he said, he made decisions about customer's credit when his own personal credit was still in tatters.
Assistance from the Weingart Center helped Reyes secure housing for his family.
Then just before leaving Zahn, Karina woke up in the middle of the night complaining of pain. They feared her cancer had returned, and went to the doctor the next morning. He explained that the source of the pain was normal—for a woman expecting a baby.
Baby Joey Alexander Reyes was born on his older sister's 13th birthday.
With a growing family, Reyes has two primary goals in life—to own his own company again and to "repay" The Salvation Army for its part in his rescue by paying it forward and helping others.