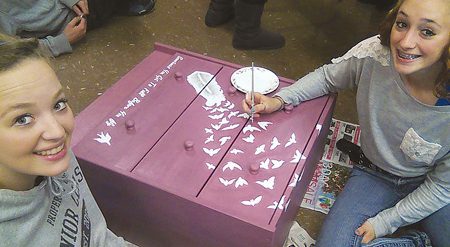 Albany youth dress up drawers
High school art students decorate dresser drawers to fund after-school program.
Recognizing the need for an after-school program in Albany, Ore., The Salvation Army Albany Corps came up with a creative way to fundraise when Envoy Brenda Fries, corps assistant, asked local high school art students to decorate dresser drawers.
Two local high schools participated in the fundraiser and contributed all necessary art supplies to turn 13 simple drawers into masterpieces.
"We love projects like these," said Emily Thomas, a teacher at one of the participating schools. "[Teenagers]  are just young people trying to figure the world out."
Once completed, the drawers were displayed at a local mall and the Pioneer Days Celebration festival for a silent auction. The corps raised $700 for the after-school program, and plans to recreate the fundraiser next year.
"The kids who painstakingly worked on these drawers were so proud," Fries said. "It was for a worthy cause within the community."
Fries said that if everything goes as planned, the after-school program will be established next year to offer tutoring and music classes, while providing childcare for parents who cannot afford it elsewhere.
As Fries said, "A lot of kids go home and are by themselves, so this [program] is at least an alternative."