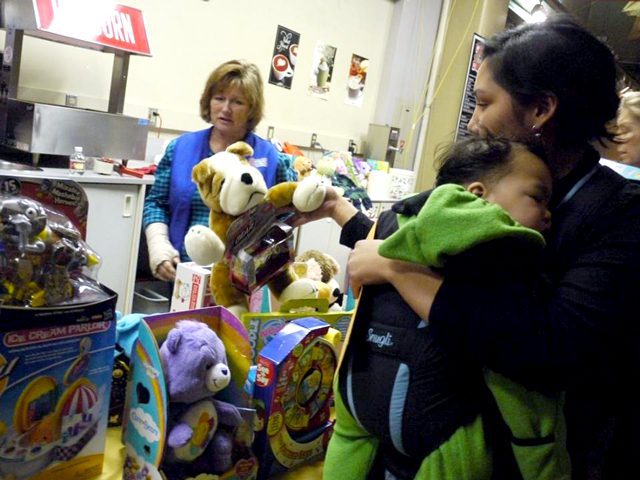 Alaska's annual Neighborhood GIFT serves 5,000 families
The Salvation Army partners with other organizations to help families in need.
The annual Neighborhood GIFT (Giving From The Heart) event—a massive holiday toy and food distribution serving families in need—took place Dec. 15-16, in Anchorage and Eagle River, Alaska.
The Christmas-time distribution is a collaborative project between The Salvation Army, Food Bank of Alaska, Lutheran Social Services of Alaska, U.S. Marines Toys for Tots–Anchorage and others.
Last year, 4,902 families were helped (23,240 individuals). This year, organizers planned for 5,000 families.
"These are our neighbors," Alaska Divisional Commander Major George Baker told KTVA reporter Bonney Bowman. "These are folks that have no jobs or have low-paying jobs and need a little help at Christmastime. It's a choice between buying food or paying for utilities or providing a gift for their kids."
The Salvation Army coordinates volunteer management and numerous community toy drives, as well as helping plan the event with other cooperating organizations. Food Bank of Alaska provides a turkey and groceries for a complete holiday meal to every family, thanks to community donations of funds and food.
At the distribution event, families in need receive help from volunteers to pick out toys (one for each child age 14 and under) and food for the holidays.
Toys distributed at this event were donated by individuals at area stores through Fred Meyer collection barrels, Anchorage DeBarr and Eagle River Walmart Fill the Truck boxes, and at participating Angel Tree locations in the community.
Such drives can make a big difference for area children, and local residents were responsive this year. More than 150 toys were donated in one day at two area Walmart Fill the Truck toy drives held at participating locations in Eagle River and Anchorage-DeBarr. Another 150 toys were donated at the Wasilla Walmart; these will be distributed separately in a Mat Su-area event.
"In so many ways, Anchorage is unique in the way that social service agencies and the faith-based community work together," said Major Nila Fankhauser, Alaska divisional community care ministries secretary, who has been part of the event since it began in 1995. "By collaborating, although it comes with its own challenges, we are able to accomplish much more and help more people."
Participating organizations include: Food Bank of Alaska, The Salvation Army, Lutheran Social Services of Alaska, U.S. Marine Corps Toys for Tots, United Way of Anchorage/Alaska 2-1-1, Anchorage City Church, SMG/ Sullivan Arena, Harvest Christian Fellowship, Crosspoint Community Church and Community Covenant Church, with special thanks to Fred Meyer, Walmart-Anchorage DeBarr, Walmart-Eagle River, and The Salvation Army's numerous Angel Tree partners.