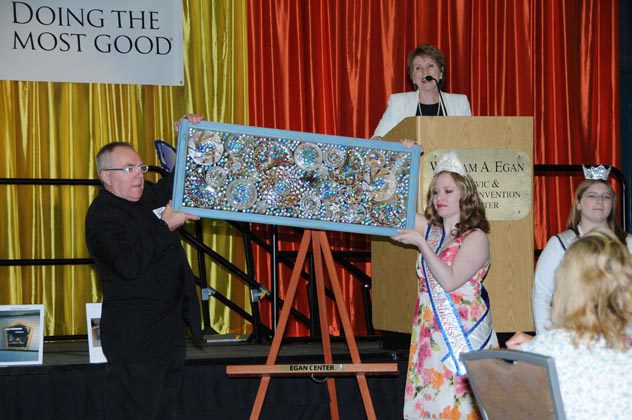 Alaska Salvation Army unveils 'Transformed Treasures'
Alaskans discover treasures while supporting Salvation Army programs.
By Kathy Day – 
Several items sold for more than $2,000 including a queen size quilt by Kathy Appolloni, a wood salmon wall sculpture (called Salmon a la Cart, since it was made from an old cart) by Debbie Dubac and a stained glass piece by Gretchen Cuddy made from tea cups, glasses and an old lantern. Ten invited artists competed in an "Artists Challenge," choosing either a pair of boots or a men's suit to transform. Boots became a lamp and a men's suit turned into a child's coat and hat. Those attending an early preview of the treasures and Saturday's luncheon were able to vote for the People's Choice Award in the boots and suit categories.
[gss ids="7569,7535,7537,7534,7536,7539,7544,7550,7549,7552,7554,7553,7555,7556,7558,7560,7557,7567″]
KTUU Channel 2 Anchor Sheila Balistreri, auctioneer at this year's event, received special recognition. She has volunteered with Transformed Treasures for several years, and will be retiring from her TV career later this month.
The 2014 Transformed Treasures butterfly theme was symbolic in more than one way. Like the metamorphosizing butterfly, the thrift store items that someone discarded became one-of-a-kind pieces that will be treasured for years to come.
Lainie Dreas and Deanna Teders chaired the event; sponsors were BP Alaska, Color Art Printing and Udelhoven Oilfield System Services, Inc.