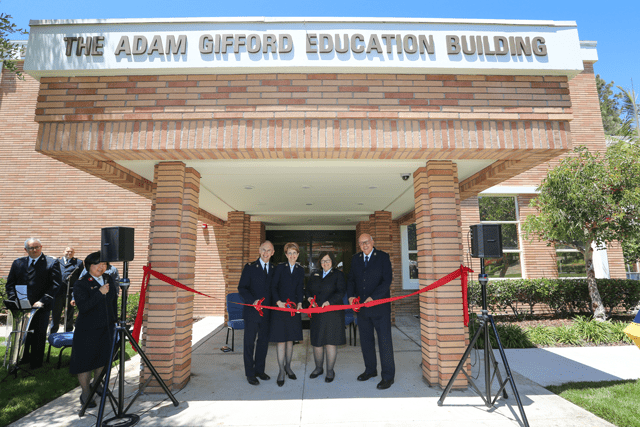 Adam Gifford Education Building rededicated at Crestmont
Americas and Caribbean zonal leaders lead ceremony for officers and employees.
Officers and employees of The Salvation Army Crestmont Campus in Rancho Palos Verdes, California, joined together on the lawn May 24 to rededicate the Adam Gifford Education Building to the Lord, led by Commissioners Mark and Sharon Tillsley, zonal leaders for the Americas and Caribbean from International Headquarters, alongside Western territorial leaders Commissioners Kenneth G. and Jolene K. Hodder.
The ceremony commemorated the renovation of the two-story facility on the Crestmont Campus, which now houses the College for Officer Training classrooms, library and administrative offices.
"Any building put on a campus has an aspect of being 'on base' and of preparing for the field," said Mark Tillsley. "The base is where we are fed, encouraged and strengthened, where we prepare to move out into the field. The field, then, is where I move out to serve.
"There is a rhythm to campus life and to our Christian life," Tillsley said. "We move from the presence of God into the presence of men. From the presence of people back into the presence of reflection and where we can think deeply about the opportunities of God."
The building was previously named in honor of Adam Gifford, the first officer to serve as Territorial Commander when the Western Territory was separated from the Central Territory to become an independent administrative unit. Gifford was appointed Territorial Commander of the newly formed Western Territory in 1920 and continued in that role until his promotion to Glory in 1931.
In the days ahead, Tillsley said there is something even more wonderful in store for the building, referencing  Haggai 2:7-9. And the good to come must not be contained within the walls, he said.
"The glory of God will not be contained within a building, but as Paul reminds us in 1 Corinthians 3:16, you are the temple of God," he said. "The spirit of God dwells in you."
Originally officers of the USA Eastern Territory, the Tillsleys came to their appointments at International Headquarters—as International Secretary and Zonal Secretary for Women's Ministries for the Americas and Caribbean Zone, respectively—following their appointment as territorial leaders of the Caribbean Territory. In their current role, they serve as the General's representatives for The Salvation Army in North, Central and South America.
As they travel the zone—generally visiting territories for a week out of the month—the Tillsleys said they see challenges but also have been witness to expressions of The Salvation Army in places experiencing growth, particularly in South America.
In her prayer over the building just before its ribbon cutting, Sharon Tillsley said, "I pray this newly completed project will stand as a practical beacon. I pray that you will be the one shining brightly, so that we may bring people closer to you in learning the ways of justice and kindness."