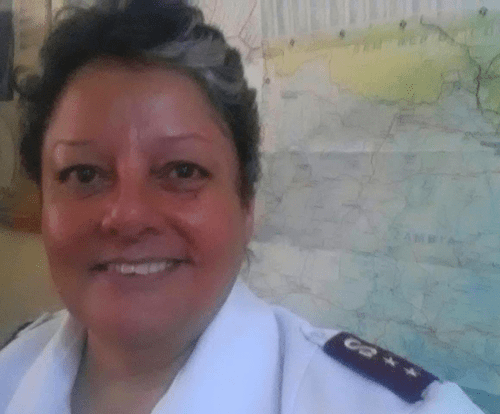 Able to continue once begun
"Life with God is filled with changes to grow in faith," Captain Liane Newcomb wrote when she received marching orders taking her from Mitanda Home for the Aged in Ndola, Zambia, to her new appointment at Zambia Territorial Headquarters (THQ) in Lusaka. Newcomb, a Western Territory officer, left her first appointment in Alaska in 2015 to manage Mitanda. In her new role at THQ, she will work to help The Salvation Army in Zambia become self-sustaining.
Finding self-sustaining ministry in the Zambia Territory.
By Liane Newcomb, Captain
It's rainy season in Zambia, which means it's warm and wet. Plants are thriving, the bugs are being flooded out of their homes and everyone is thankful for the sustenance of water. My neighbor is preparing and planting beans and other vegetables as part of the sustainable living most African families practice. In fact, one of the many goals for the Zambia Territory is that every unit under its command be self-sustaining. Webster's says it this way: to be "able to continue once begun."
Just as the body needs water to survive, our very spiritual life depends on faith in God alone. Hebrews 11:1 from the Amplified Bible defines faith (or, if you will, spiritual sustainable living) this way: "Now faith is the assurance (title deed, confirmation) of things hoped for (divinely guaranteed), and the evidence of things not seen [the conviction of their reality—faith comprehends as fact what cannot be experienced by the physical senses]."
I witnessed God move on behalf of Mitanda Home for the Aged countless times before we even saw the evidence of his faithfulness become a reality. You can't always explain the whys and wherefores other than testifying to the glory of God.
My recent transition to Education, Social and Medical Secretary at THQ in Lusaka is another step in my spiritual sustainable living. In my first week, I visited one of the many community schools run by The Salvation Army across the Zambia Territory that serve numerous families who struggle to send their children to school.
Two weeks later, I participated in an outreach project to bring homeless street kids into a shelter and help them repurpose their lives. Their ages range from preteen to young adult. An unfortunate number of them are already under the influence of some substance and one reported that a friend had recently died as result of this abuse. These young people have run away, are abused or rejected by families, are abandoned and often exploited. The Salvation Army provides food, school uniforms and supplies, and a faith-based partner provides the shelter and counseling.
I spoke to a few who had dreams of making something out of their lives. Whether being a writer or producer, a truck driver or a welder, they just want to be given a chance. These young people will get that chance: to reconnect with families, go to school, gain practical skills, develop character strength to make better choices, and build a relationship with God so they are able to continue, once begun, on a road of faith, sobriety, purpose and endurance.   
I have been blessed serving in the Zambia Territory and I love the heart of the people. I don't know what's up ahead, but I do know that God is steps ahead and sustains me. 1 Thessalonians 5:24 says it well: "Faithful and absolutely trustworthy is He who is calling you [to Himself for your salvation], and He will do it [He will fulfill His call by making you holy, guarding you, watching over you, and protecting you as His own].