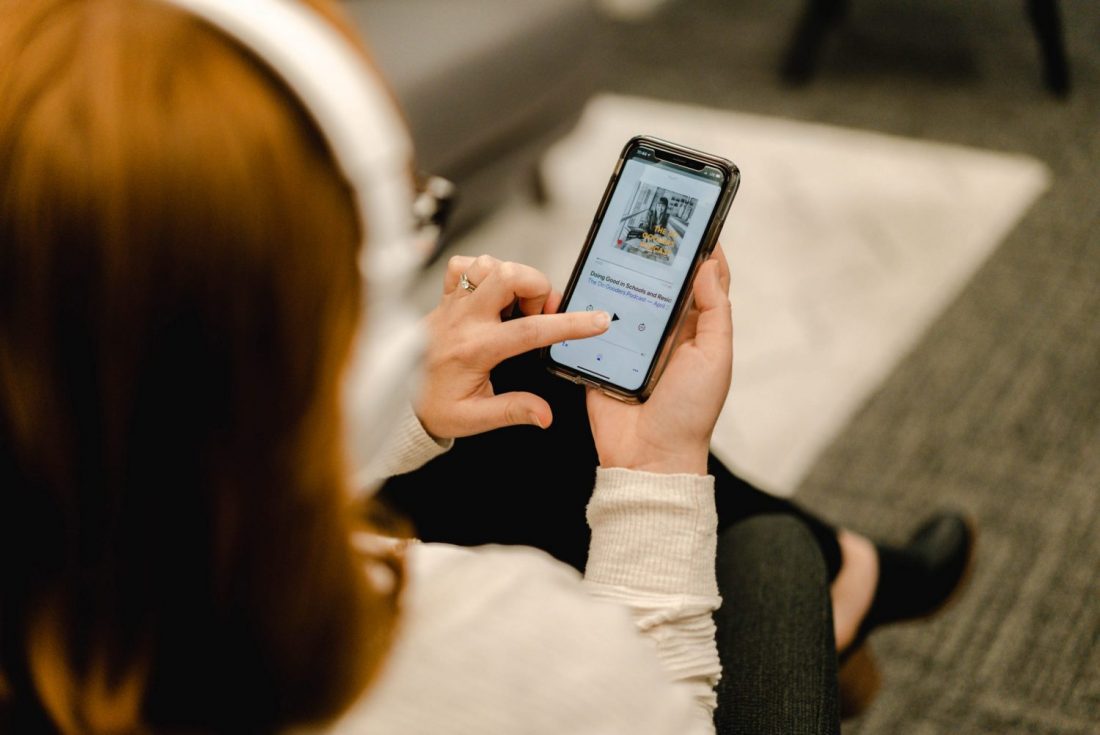 9 lessons learned this season on The Do Gooders Podcast
In the latest season of The Do Gooders Podcast—The Refining—our guests, in conversation with Caring Magazine editor Christin Thieme, took a closer look at how we can use this unique moment in time to take a step back and evaluate the way we live. 
Are we going to take this opportunity to evolve? Are we devoting enough time to our relationships? Are we fulfilling our unique purpose and living with kindness? 
Here are 9 lessons we learned during the second season of The Do Gooders Podcast:
1. Embrace the messiness of this moment.
According to Krysta Masciale, when faced with a crisis, we can choose to replicate or evolve. And while we're facing this collective crisis as a result of a global pandemic, we have been forced to slow down and truly take a deeper look at who we are. Evolution is messy, but the road to growth is paved with discomfort. Embrace that discomfort and find joy in the refining with Krysta's five practical steps to evolving in crisis.
Episode 57: Will you replicate or evolve in crisis with Krysta Masciale
2. Calmness can be learned.
When faced with an unknown, our natural human response is fear. But with no end to the pandemic in sight, how can we feel safe and calm our anxiety? Dr. Jack Anderson says calmness can be achieved through turning to integrity—but not in the way you might think. Build strength through prioritizing self-care practices, such as getting enough sleep, exercising regularly and eating a balanced diet.

Episode 58: How to cope with anxiety and find calm with Dr. Jack Anderson
3. Do good in order to grow.
After the pandemic arrived earlier this year, Chef David Jones found himself without work and wanting to give back. Soon enough, he was in charge of feeding 100 residents per day in The Salvation Army's Silvercrest—a residence for seniors. Listen in to hear how David learned to embrace the opportunity to do good and ended up with a stronger sense of self.
Episode 59: How to do what you love as a Salvation Army volunteer with David Jones
4. Live in your unique purpose.
Are you living in your purpose, or simply going through the motions? When we strive to attain a certain goal in order to meet the status quo, we often default to a false sense of comfort and never reach real contentment. If we stay focused on what we're doing, we lose sight of who we're being. Dr. Deb Gorton says who we're being, our unique purpose, transcends all areas of life. Tune in to hear more from her about learning to press pause and embrace being uncomfortable.
Episode 60: Practical skills to pursue and live in your purpose with Dr. Deb Gorton
5. Transformation is a choice.
As a young man struggling with addiction, Lt. Paul Chisholm found community and transformation at The Salvation Army's Adult Rehabilitation Center. Now, he's an ordained minister who dedicates his life to helping others transform their lives.
Episode 61: Making the choice to transform with Lt. Paul Chisholm
6. Community fuels movements.
How can we look outside of a congregation, and minister to an entire community instead? That's the question Tim Soerens asked himself over 10 years ago, and since that time, he's brought the Parish Connection to neighborhoods across the world to help Christians find the church right where they are.
Episode 62: The key to discovering the Church right where you are with Tim Soerens
7. Make space for love.
We live in a world that demands change. And in trying to maintain it all, many dual-career couples can lose their own personal identities in order to keep going. But do we have to sacrifice our relationships in order to make it work? André and Jeff Shinabarger say with open communication, intentional choices and a shared calendar, couples can balance love, work, children, and more.
Episode 63: How to lessen the strain between love and work with André and Jeff Shinabarger
8. Be a peacemaker.
In studying the Beatitudes, Jonathan Dodson discovered that aligning our hearts with what's right can make all the difference in living a fulfilled life. If we focus on being a peacemaker, a person who loves others no matter the cost, we can strengthen our relationships and find contentment.
Episode 64: What the promises of the Beatitudes mean for today with Jonathan Dodson
9. Try kindness.
In her new book, Ashlee Eiland took a closer look at the concept of kindness, and she found that being kind is more than doing something nice or being pleasant—it's seeing one another and wanting what's best for the other person. And while we're navigating a world that's testing our ability to engage in healthy relationships, Ashlee offers practical ways to show grace, kindness and empathy in our daily lives.
Episode 65: How to restore dignity through kindness with Ashlee Eiland
---
Do Good:
Are you a Do Gooder, someone who cares about bringing goodness into the life of your family and community? Subscribe to

The Do Gooders Podcast

with Christin Thieme to be inspired by those doing good and find tangible tips for simple actions you can take today.

See how you can get involved in the Fight for Good at

westernusa.salvationarmy.org

.

Did you know The Salvation Army served more than 23 million Americans last year fighting hunger, homelessness, substance abuse and more—all in a fight for good? Where can you help?

Take our quiz

to find your cause and learn how you can join in today.