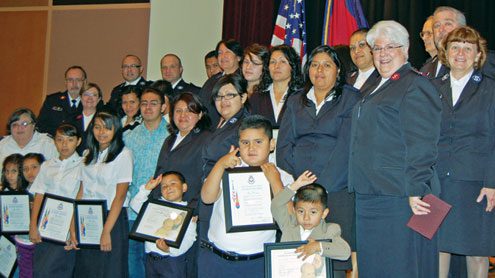 Friends of The Salvation Army Kroc Center in Salem, Oregon, celebrated the center's first birthday Oct. 1-3. The weekend featured free community events, a donor reception, and a united service and soldier enrollment. Major Donna Ames is the Kroc Center
News briefs from the around the Western Territory.
For the first time in 10 years, All the World—The Salvation Army's longest-running international magazine—has redesigned its format.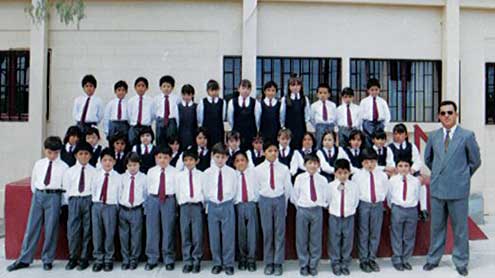 People worldwide witnessed the rescue of the 33 Chilean miners trapped more than 2,000 feet underground for 69 days. With all of the media coverage and volunteers from all over the world, what role did The Salvation Army play in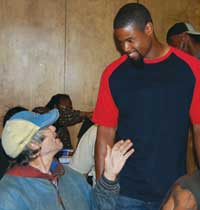 The San Diego Chargers win every Thursday evening in San Diego! For the past 12 years, players, coaches and staff have faithfully provided and served dinner to the homeless at the downtown Salvation Army Centre City Corps. On a recent
by Victor Leslie, Lt. Colonel
I was thumbing through the King James Version Bible that my father gave me more than 30 years ago, when the phrase "from generation to generation" came to mind. I had read Luke 1:50,
by Pam Strickland, Lt. Colonel
Recently, Ron and I took a trip to Australia to be with our daughter, who had just been diagnosed with Hodgkin's lymphoma. Thus began our journey into the unknown. Will she get the best
Delegates meet to discuss theology, ethics and holiness. Forty-nine of The Salvation Army's theological thinkers and ethicists—representing 26 territories around the world—met at Sunbury Court in Thames, England, on Oct. 7-10, 2010, for the International Theology and Ethics Symposium. This was the
by Sharon Robertson, Lt. Colonel
Migrant workers are a familiar sight in farming communities. They follow the crops in the harvest season, and many a farmer relies on the labor they provide. Much of the work is backbreaking, requiring
by Bob Docter
I had my twin adolescent grandchildren in the car the other day. They are "great kids." They're seniors in high school. I asked them: "What is the number one stressor in your lives these days?" They immediately replied
May the Lord make your love increase and overflow for each other and for everyone else…. May he strengthen your hearts so that you will be blameless and holy in the presence of our God and Father when our Lord