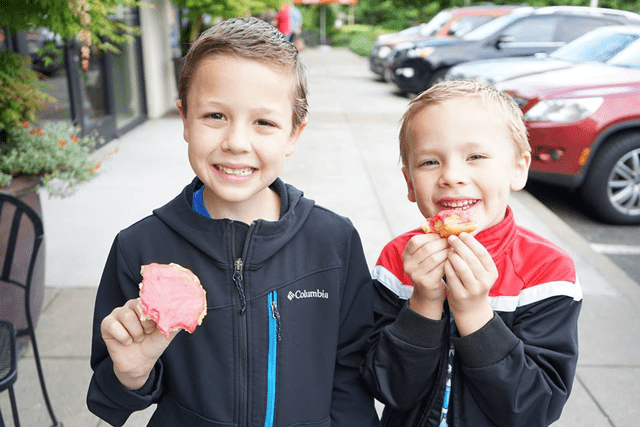 10-pound doughnut in Cascade Division breaks world record
Local chef inspired by The Salvation Army's history with the doughnut.
By Jared Arnold, Captain –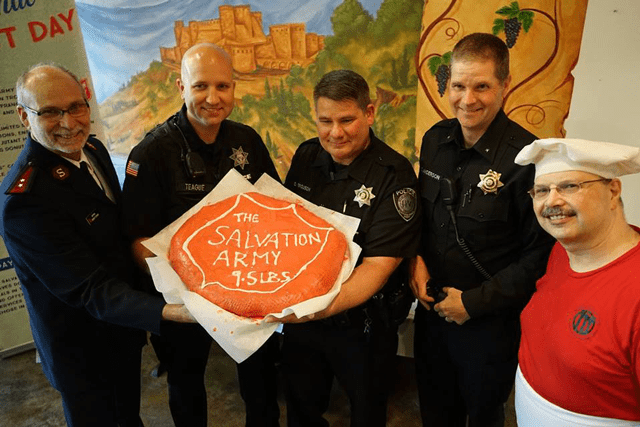 In Happy Valley, Oregon, at 6 a.m. on June 2, National Doughnut Day, people lined up outside an unusual location—a combined doughnut shop and mediterranean restaurant.
They weren't queuing just for a free doughnut, but instead to witness the unveiling of a world record-breaking doughnut: one deep-fried, 10-pound pastry, glazed red and featuring The Salvation Army shield.
Each year, National Doughnut Day is observed on the first Friday in June. This year—2017—marked the 100th anniversary of The Salvation Army's involvement in World War I, which is symbolized by the doughnut, created by  Salvation Army "lassies" for soldiers on the front lines.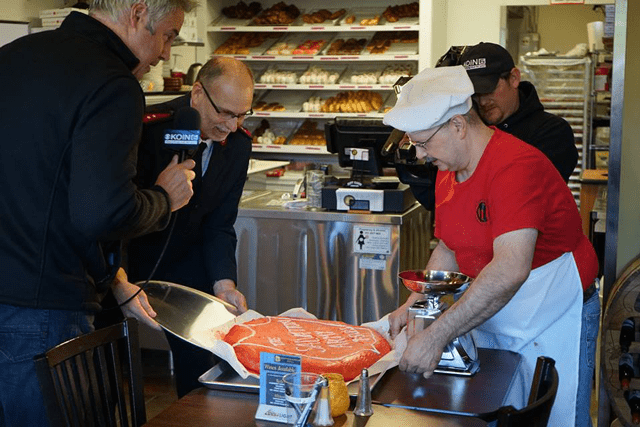 The 10-pound doughnut was handcrafted by Fadi Arnaout, owner and head chef of The Mediterranean Grill and Grandma Fadi's Donuts, located just minutes away from The Salvation Army Cascade Divisional Headquarters. Arnaout had prepared for a 300-doughnut giveaway on June 2 to promote his business. When he discovered the roots of National Doughnut Day, he reached out to The Salvation Army to see if he could make a red-glazed doughnut to support the organization.
The Salvation Army asked if Arnaout would go even further, and create a 100-ounce, or 6.25-pound, doughnut to commemorate the 100th anniversary.
"100 ounces—that has to be some sort of record," Arnaout said.
In fact, it was. Accepting the challenge, Arnaout outdid himself, producing 160-ounce (10-pound) doughnut.

Meanwhile, The Salvation Army had contacted the Guinness Book of World Records regarding "The World's Largest Single Doughnut."
Local government officials, partners and friends of The Salvation Army, television reporters, and local doughnut-lovers arrived early to view the great doughnut weigh-in. Captain Robert Steiner, Cascade Divisional Secretary, assisted with the weigh-in and spoke on the historical significance.
"The Salvationists in World War I would fry the doughnuts in the helmets of the troops in the trenches," Steiner said.
The Salvation Army presented the giant doughnut to members of the Happy Valley Police Department as a "thank you" for allowing The Salvation Army to serve alongside them in the community.
"We've called in backup to tackle this one," a police representative said.
Arnaout already has plans for the next National Doughnut Day
"Maybe next year, we'll go for a dozen," he said.