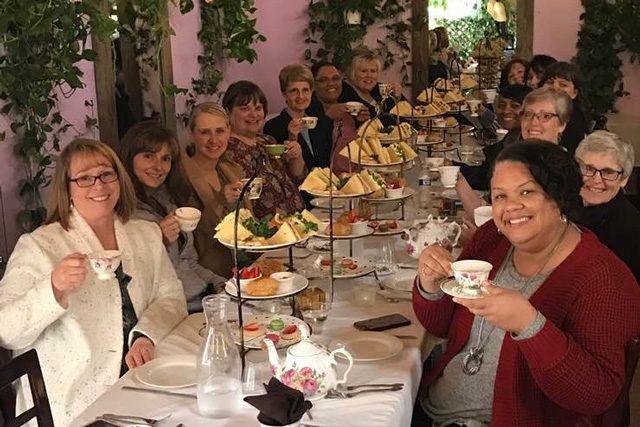 Women's Ministries leaders meet, focus on media
Conference examined how to reach a distracted, media-driven culture.
The Salvation Army Western Territory Divisional Women's Ministries Secretaries (DWMS) Conference took place Feb. 22–24 at the Torrance (California) Corps, and included a time of training for all the cadets. The conference focused on the power of media and how it portrays Christianity.
Kathleen Cooke, member of The Salvation Army National Advisory Board, was special guest. She and her husband, Phil, founded The Influence Lab to "change the perception of Christianity in today's media-driven culture…[and to] train a new generation of pastors and leaders, and create a pathway for Christian influence in entertainment and media."
Cooke gave two presentations: the first focused on Generation Z and its addiction to social media; the second was on "Being Connected to the Vine."
"Kathleen Cooke spoke clearly on the fact that Generation Z, the now 3 to 10-year-olds, are a splintered generation," said Colonel Colleen Riley, Territorial Secretary for Women's Ministries. "She described them as 'digital nomads.' These young people are volatile, complex, uncertain and ambiguous."
Cooke called them "the most hopeless generation that has ever walked the earth."
Knowing this, the church cannot take the same approach to this generation as it did to previous ones.
"We as a church need to realize that they do not understand the concept of sin," Cooke said. "We need to bring clarity not certainty and lead them to who Jesus is and leave the rest to Jesus."
While Cooke highlighted issues facing Generation Z, she also offered some tips for the conference attendees.
"She shared how the Army can spread the hope of Jesus Christ to this generation that is so desperate for it," said Commissioner Jolene K. Hodder, Territorial President of Women's Ministries.
Cooke suggested using their reality—social media—to bring them to Christ, even turning to gaming if necessary. She noted the importance of role models who are careful with their own use of cell phones and other devices.
In Cooke's second session, she emphasized the importance of remaining attached to God, wherever one happens to be.
"He has planted us and we have grown in specific places, and where we are planted matters," Riley said.
Cooke shared a statistic: The average church-goer attends three out of eight Sundays—19 times a year. That means only 20 percent of Christians show up at church every week. She emphasized the importance of being in God's Word—reading the Bible and scheduling time to meet with God.
"Don't get too busy and too distracted to engage with Christ," she said.
Cooke concluded her sessions by giving each woman a copy of her new book, "Hope 4 Today: Stay Connected to God in a Distracted Culture."
The women finished the weekend with a celebration at Chado Tea Room in Torrance.