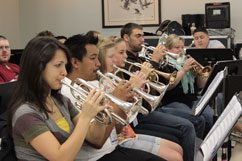 WMI: in tune with the Spirit
Western Territory's young musicians congregate at Camp Mt. Crags.
by Laura Foley and Joy Lee
The Western Music Institute (WMI), under the leadership of Territorial Music and Worship Development Secretary Neil Smith, welcomed 126 delegates from throughout the territory to Camp Mt. Crags on August 4-14, along with special guest Bandmaster Carl Saunders from Cardiff Canton Corps (UK). The students spent their time pursuing their "majors" (Brass Band, Vocal School, or Praise & Worship), as well as chorus, theory, and electives for music and worship training.

WMI's theme, "In Tune," centered on Galatians 5:25—encouraging attendees to be "in tune" not only musically, but also to keep in step with the Holy Spirit.
Smith commented on the number of "firsts" this year: "We made a number of changes to our schedule—the Sara Groves concert, visits to local corps as well as a venue change for our final concert. One of the more noticeable things was the number of first time students, which is really exciting. It was fun to watch them begin to build relationships with each other and begin friendships that will last for a long time. They also had to step up and meet the musical challenges—which are considerable. The student body all did so with a great attitude and a great deal of enthusiasm. I know that great things are in store for these young folks."
Every day delegates received "sealed orders," individual devotions written by Captain Matt Madsen, Southern California divisional youth secretary. These allowed delegates and staff to spend time with God for about 30 minutes before dinner. Each sealed order provided a different "etude," or study, presenting ways to be in tune with the Spirit through a key word for the day, such as solitude, finitude, magnitude, gratitude, etc. Evening devotions also focused on the word of the day.
For the first time ever, WMI attendees divided into groups on Sunday morning to lead and participate in the holiness meetings at four locations: Santa Monica Corps, Burbank Corps, Glendale Corps, and Camp Gilmore.
Back at camp that evening, delegates worshiped as a WMI family with new territorial leaders Commissioners Jim and Carolyn Knaggs, who spoke from the book of Acts. They were able to meet many of the delegates and staff for the first time.
WMI hosted Christian artist Sara Groves in concert on Monday night. Her artistic spark and spiritual inspiration served as a real life example of what it means to be "in tune" so that the Holy Spirit speaks through our music. She encouraged the young people to write songs and use their creativity in order to help others see the beauty of God in a world of chaos.
Tuesday's soloist night and Wednesday's mid-week concert were public events, and Saturday's final concert was the culmination of the students' hard work. Presentations the "Finale from Symphony No 8," "Ad Optimum," and "The Present Age" for the bands and "Reserved Mercy," "The Battle of Jericho," "The Lord is My Light," "Would You Know Why I Love Jesus?", "Cantate Domino," "Tomorrow Shall Be My Dancing Day," "Where is Love?" and "All There Is of Me" for the
choruses. The Praise and Worship track had two teams this year, which led the audience in "No One Like You," "How He Loves," "The World for God," and "Forever." Saunders played the solo "Glorious Fountain," inspiring a standing ovation.
A few of the young people then received awards for their outstanding work during the week.
WATT SCHOLARSHIP
ASHLEY STILLSON (Pasadena Tabernacle)
CRESTMONT AWARD
1ST SAN DIEGO CITADEL
2ND PADASENDA TABERNACLE
3RD SEATTLE TEMPLE
STILLWELL AWARD
1ST LAURA FOLEY (Pasadena Tabernacle)
2ND ASHLEY STILLSON (Pasadena Tabernacle)
3RD AMANDA WENNSTIG (Seattle Temple)
WMI PINS
BRASS
CORNET LAURA FOLEY (Pasadena Tabernacle)
JENNIFER CROWELL (THQ)
HORN ASHLEY STILLSON (Pasadena Tabernacle)
EUPHONIUM MEJEE LUTCHER (Seattle Temple)
PERCUSSION THJIS ARENS (South San Francisco)
PRAISE AND WORSHIP
AMANDA WEBB (El Cajon)
VOCAL
SOPRANO LAURA FOLEY (Pasadena Tabernacle)
BRITTANY TANGERMANN (Torrance Corps)
ALTO AMANDA WENNSTIG (Seattle Temple)
STEPHANIE FREEMAN (Anchorage Corps)
TENOR MEJEE LUTCHER (Seattle Temple)
JOSH TANGERMANN (Torrance Corps)
BASS RYAN ENG (Asian American Yurba Buena Corps)
OSCAR DE LANGEN (Seattle Temple)