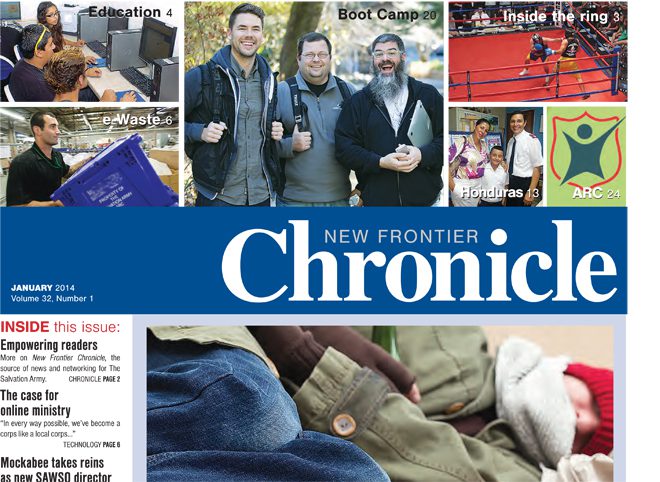 Welcome to New Frontier Chronicle
Welcome to New Frontier Chronicle, the source of news and networking for The Salvation Army.
When New Frontier began publication in 1983 as a pioneer in Salvation Army communication, it had the chance to break Salvation Army news in print. It's a different media landscape today and we are adapting.
According to the Pew Research Center's The State of the News Media 2013 report, more Americans get news online than in print, but newspaper circulation remained steady (down just 0.2 percent). Simultaneously, digital audiences increased 7.2 percent.
Over the past year, we studied our own readers, completing surveys of Western Territory officers as well as the entire current readership. From that insight comes the New Frontier Chronicle.
We are now focusing on a digital-first strategy, which includes a reshaping of the newspaper. A monthly 24-page print edition will provide context, analysis and the news behind the news that you already know as a complement to the online presence. Both have a fresh look to reflect modern tastes and reading habits.
In print, we will aim to empower readers to communicate The Salvation Army's mission through actionable and applicable content. Look for information from across The Salvation Army world, investigative reports that analyze effective programs and identify the unique features and trends for what works, tips to help your local congregation better engage in the issues of today, and influential voices on relevant (and sometimes controversial) matters. We will also provide heightened coverage of the top three areas of concern—education, immigration and health—as identified in our readership survey.
Find daily Salvation Army news on this site—since nearly 90 percent of our audience uses Facebook as their primary social network—an increased attention to networking there.
To connect and engage with our readers beyond the publication, we are planning writer's workshops throughout the territory and town hall style events to discuss issues that matter to The Salvation Army. We hope to connect with you at these events.
As always, our goal is to deepen engagement with you and provide quality content for you. Tell us what you think.
Read the first print issue here: