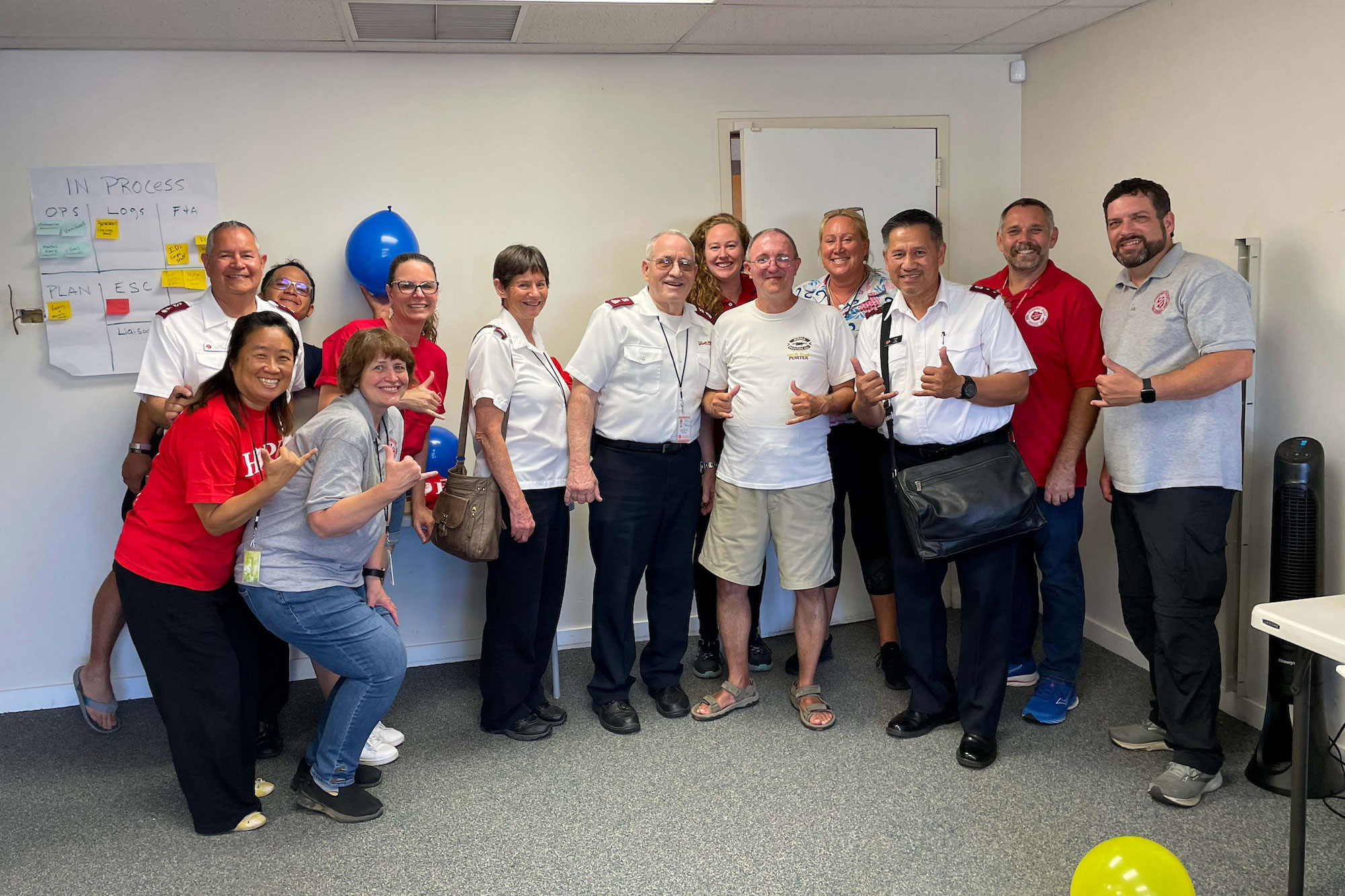 Volunteers on vacation give back in Maui with The Salvation Army
After spending a week on Oahu on vacation from his department of transportation job in Canada, Ian Melnyk traveled to Maui to volunteer.
"I care about the Maui community and to show my gratitude for all the great times Maui gave to my family and myself over the years," he said, Oct. 13. "This past Monday was Thanksgiving in Canada, and I am truly thankful for being able to visit Hawaii as many times that I have."
For five of the eight days he was on the island, Melnyk volunteered with different groups that were responding to the aftermath of the devastating fires.
After connecting with Territorial Director of Emergency/Disaster Services Volunteers and Training Stacy Dertien at The Salvation Army Kahului Corps, he volunteered at the Kihei thrift store, sorting donations and organizing the store in preparation for families to receive thrift store vouchers.
"Volunteers enhance services that The Salvation Army offers locally and help to show survivors that there is a cadre of caring people in Maui who support them and will continue to uplift them as the community recovers." —Stacy Dertien
Melnyk is one of several volunteers who have come from vacationing to join The Salvation Army's ongoing response to the devastating fires that destroyed Lahaina in August, supporting both survivors and the Incident Command Team.
"Volunteers enhance services that The Salvation Army offers locally and help to show survivors that there is a cadre of caring people in Maui who support them and will continue to uplift them as the community recovers," said Dertien, who served as who served as Maui Incident Command Volunteer Coordinator and Finance and Administration Deputy in Maui from Aug. 31-Oct. 10.
From the beginning of The Salvation Army's response Aug. 8-Oct. 17, trained Salvation Army officers (pastors), staff and volunteers have provided more than 109,000 meals, and coordinated and delivered more than 840,000 more through vetted organizations at 14 locations. Additionally, they have provided more than 3,400 individuals with emotional and spiritual care.
Dertien said some of the volunteers helped to sort toys in the toy container/storage pod at the Kahului Corps ahead of a distribution to families of survivors. They also organized the rest of the toys to prepare for The Salvation Army's Christmas toy distribution.
A group of volunteers from Edward Jones painted the new Incident Command Office in the upstairs of the Kihei thrift store, Dertien said, creating a welcoming space for disaster services to be coordinated. Among them was Cassie Batt, who with her husband, Edward Jones Financial Advisor Michael Batt, worked to beautify the space.
"We met another couple and our similar work habits made us a great team," said Batt, of Scott and Ruth Carrie. Scott Carrie is an Edward Jones financial advisor. "From the beginning, we were able to establish a plan and proceed to completing our tasks in a friendly environment. Two of us also visited the thrift store and found some wall art to brighten up the location, which only added to our overall satisfaction of a job well done. We have good memories of that day and it was a highlight of our trip."
Donna Seibel was another of the group's volunteers who traveled to the island with her husband, Edward Jones Financial Advisor Greg Seibel. The pair said they used experience from past DIY projects to help them with their volunteer tasks.
Batt and Seibel were a part of the five waves of roughly 120 Edward Jones financial advisors and guests who volunteered to offer assistance in Maui throughout the months of September and October. The volunteers were split across four volunteer opportunities, one of which was serving through The Salvation Army.
Their efforts are part of the Edward Jones Travel Award Program, which recognizes financial advisors who build and run successful practices. Oftentimes, like in the case of the Maui response, the financial advisors and their guests select a service project while traveling as a way to give back.
"We were truly saddened to hear about the death and destruction caused by the fires, having been to Lahaina in the past and remembering what a special place it is," Seibel said. "We didn't want to come on vacation and just lay on the beach knowing there is so much work to be done."
---
Do Good:
See how The Salvation Army fights disaster.
Whether it's through opportunities with The Salvation Army or elsewhere, your gifts are needed. You are needed. If you choose to cultivate these nine habits of impactful volunteers, you will make a difference in the lives of others. When you strive to do good, you help build a safer world for all and give others a lasting display of the love behind your beliefs. Get the guide on How To Be An Impactful Volunteer and join us in doing good today.