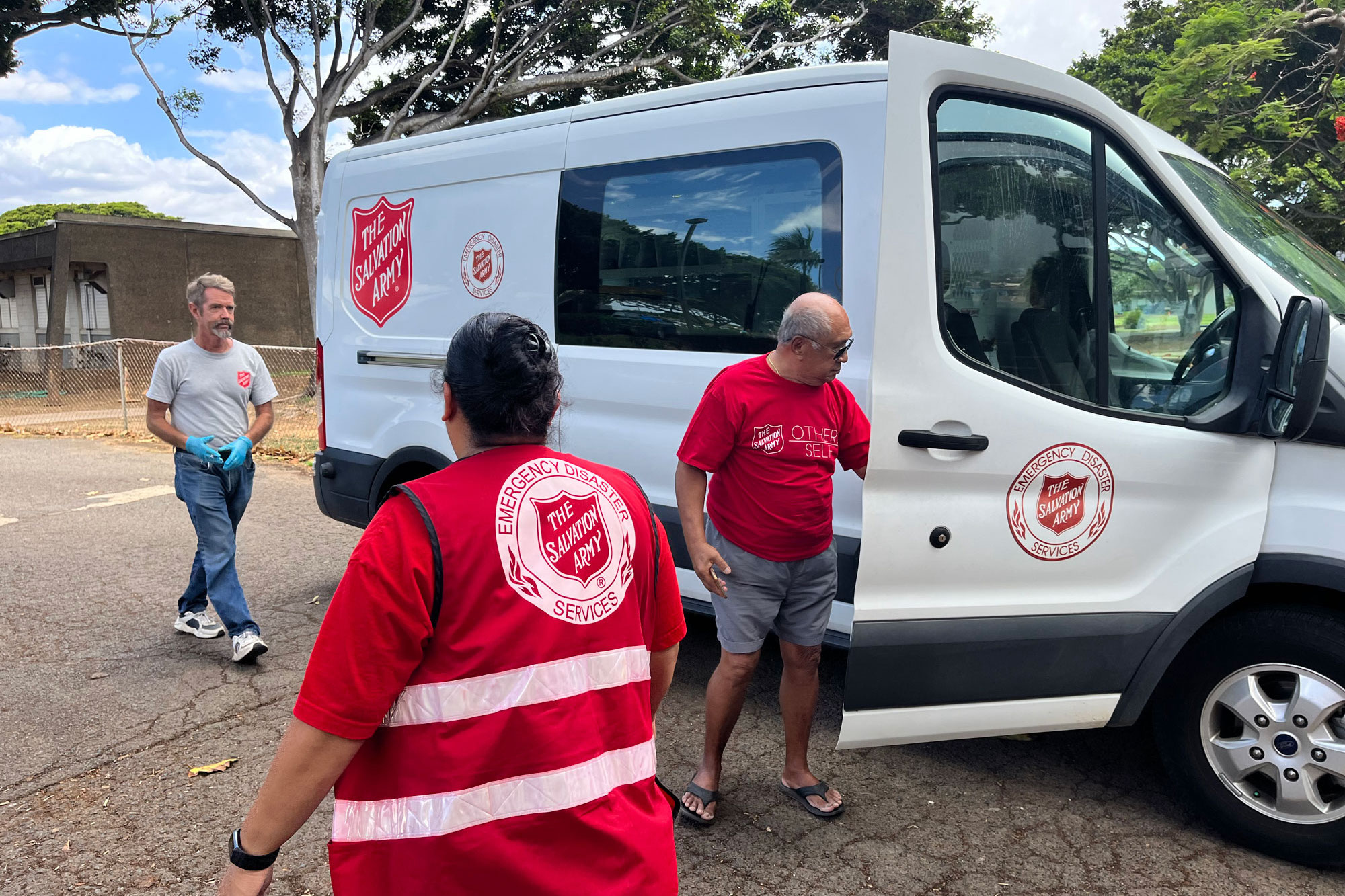 Salvation Army responds as Maui wildfires devastate town of Lahaina and island economy
Updated Aug. 22
The devastating wildfires still burning on the Hawaiian island of Maui have displaced thousands of residents and tourists. As of Aug. 15, power was restored to all but 2,000 of the 12,400 customers who lost power in West Maui, not including about 2,000 homes and businesses destroyed in the fire. The death toll now stands at 106 as search and rescue efforts continue. Many burn and inhalation victims were flown to Oahu for treatment.
You can help The Salvation Army provide disaster relief for those impacted by the Hawaii wildfire online or by texting HAWAIIFIRE to 51555. 
While the blazes in Lahaina in West Maui, and Kihei and Kula in South and central Maui are now contained, there are still flare ups being put out by firefighters. The town of Lahaina, with a population of just over 9,000, is the largest community in West Maui and the island's economic and tourist hub. According to reports and helicopter and satellite images, the damage is catastrophic and nearly all of Lahaina town was leveled including historic and cultural sites dating to the 19th century.
Maui generated over $5.69 billion in tourism spending in 2022 according to the state's Department of Business, Economic Development and Tourism. That number is still down from pre-pandemic figures, as Hawaii is still recovering from the closures and lack of tourism due to Covid-19. Lahaina accounts for 80 percent of Maui's tourism.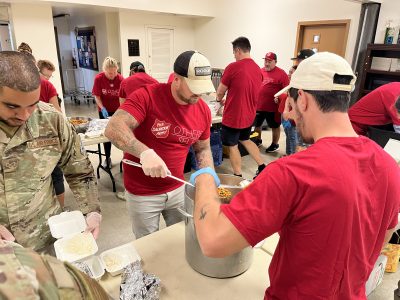 Based on aerial imagery, The Salvation Army's Hawaiian and Pacific Islands Division confirmed the loss of the entire Lahaina Lighthouse Corps complex including the administrative building, church, thrift store, and residential quarters. All staff evacuated safely from the building. 
"In time, we will rebuild our buildings, but right now our main focus remains serving those on Maui by not only coordinating and providing meals, but also providing emotional and spiritual care," said Major Troy Trimmer, Divisional Commander of The Salvation Army Hawaiian and Pacific Islands. "While this is a devastating time for everyone on Maui and for all who know and love the people of Maui and the island around the world, The Salvation Army is here to support response for all those in need. It is truly an inspiration to see Envoy Kevin Nagasaki, who led our Lahaina Lighthouse Corps, continuing to support those on Maui through outreach at our Kahului Corps and the shelters."
The Salvation Army is currently feeding and coordinating 7,200 meals each day at Maui County/American Red Cross and other shelters in response to the various evacuations for wildfires. The organization continues to seek large volume meal donations from local restaurants and certified kitchens [due to health safety food preparation standards] for meal service at shelters.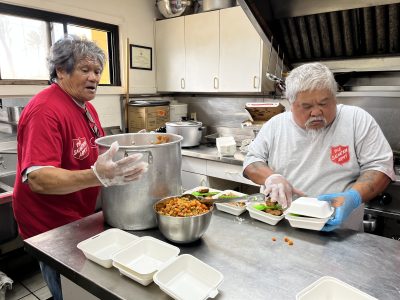 "During emergencies, the best way the public can help is to provide monetary donations which allows the delivery of the exact relief supplies a community needs," said Victor Leonardi, Divisional Director of Emergency Services and Safety for The Salvation Army Hawaiian and Pacific Islands Division. Plus, The Salvation Army uses 100 percent of all donations designated 'disaster relief' in support of disaster operations."
You can help The Salvation Army provide disaster relief for those impacted by the Hawaii wildfire online or by texting HAWAIIFIRE TO 51555. 
The Salvation Army is part of a team of agencies providing assistance during natural disasters and is a member of the State of Hawaii Voluntary Organizations Active in Disaster (VOAD). Additionally, The Salvation Army Hawaiian and Pacific Islands Division is continuing to respond with community assistance as needed across the state due to 80 mph winds caused by Hurricane Dora offshore and the resulting fires. The fires are said to be the result of severe drought combined with the extensive planting of non-native grasses, in combination with Dora's impact.
Lahaina plays a critical role in the history of the Kingdom of Hawaii. King Kamehameha III designated it the capital of the Kingdom from 1802 to 1845, and the town was also a major whaling and shipping hub. Most of the structures in Lahaina, including all of those on mile-long Front Street, have been lost.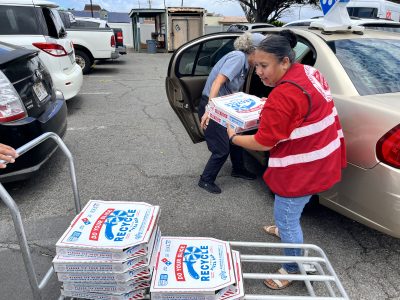 Lahaina's main thoroughfare and primary tourist destination, Front Street has been named one of "The Top Ten Greatest Streets" by the American Planning Association and many of its buildings date back to the 1800s, including the now-destroyed historic Pioneer Inn hotel and the Lahaina Harbor.
News reports have stated the world-famous Lahaina Banyan Tree, an import from India that was planted in 1873 and has since become a community meeting place and landmark, was scorched by the fire but remains standing, a symbol of resilience and hope at a time when Maui's residents and the people of Hawaii need it most.
Give to help the disaster response online or by texting HAWAIIFIRE TO 51555 to donate now. 
---
Do Good: