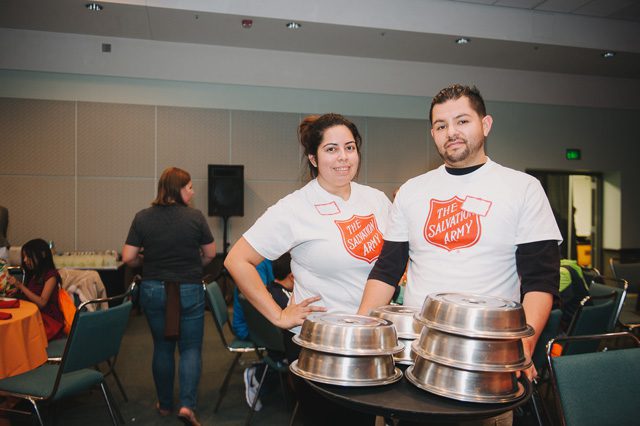 The value of volunteers
National Volunteer Week, April 12-18, recognizes the work of volunteers for causes and charities nationwide.
By Christin Davis – 
Despite evidence that it leads to health benefits and greater life satisfaction, the rate of volunteering in the United States declined again in 2014, according to the Bureau of Labor Statistics (BLS)—a trend that held true for The Salvation Army as well.
Just 25 percent of Americans volunteered through or for an organization at least once last year, marking the lowest rate of volunteering since the annual BLS report was first conducted in 2002. The Salvation Army Western Territory received over 4 million hours of service in 2014 from nearly 935,000 volunteers—44,915 hours less than in 2013.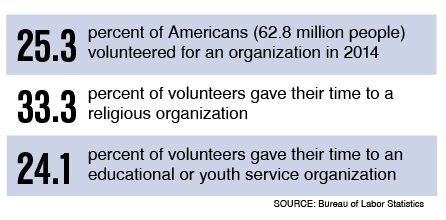 With roots in the Civil War and a heightening during the Great Depression, volunteerism has experienced a boon in recent years in campaigns from Giving Tuesday to the 9/11 national day of service. But as hours given steadily decrease, organizations are looking to highlight the critical effort volunteers provide and increase giving.
As the full-time volunteer coordinator for The Salvation Army Southern California Division since spring 2014, Amy Hudson works to connect people to opportunities spanning the division's 32 corps and 24 social service programs.
"People will gather if they have a job to do," said Hudson, who is coordinating five service projects during National Volunteer Week, April 12-18. "In each program and corps, there are so many holes in what needs to be done. Without volunteers, there would be even more."
Through The Salvation Army, in particular, she said, volunteers have ample opportunity.
"Consider what kind of volunteering you want to do, because you really can do anything with The Salvation Army," Hudson said. "Whether it's working with kids, seniors, veterans or homelessness—we can accommodate a volunteer's passion."
Dr. Jane Allyn Piliavin, Conway-Bascom Professor Emerita of Sociology at the University of Wisconsin-Madison, has conducted numerous studies on social psychology, altruism and volunteerism. She said the urge to volunteer comes down to one's identity.
"When you get people to think of themselves as someone who does this, who believes in giving back to the community in this form as part of themselves, then you've got them," she said. "If you get people to identify with volunteering then they're likely to continue it."
Americans assemble to do things they enjoy doing or that contribute to society, yet Piliavin said participation in groups has steadily decreased since the introduction of the television.
"People use to be in bowling leagues. They used to have bridge clubs, quilting clubs, choral clubs—things that people would go out of the house to do," Piliavin said. "When it comes to volunteering, almost any mental or physical health effect that you can think of has been found. Just getting out and doing things is good for you, but getting out and doing things that benefit other people is better for you."
Michael Mueller is in a bowling club, and for him, volunteering is a daily priority.
He started volunteering with The Salvation Army in March 1987. When his alarm rings at 4 a.m., four days a week, he gets dressed and takes the bus to the Redondo Beach Corps in Southern California, where he makes coffee and prepares meals for delivery to homebound seniors.
"I have something to do, and I like to deliver the meals; it keeps me out of trouble," said Mueller, who experiences some physical disability due to cerebral palsy. "They are my friends and I like to talk to them. I get good compliments about good coffee."
According to Kitchen Manager Junior Torres, Mueller is always on the move. In addition to bowling, he attends a weightlifting class at a nearby junior college.
"Everybody asks for Michael when they walk in the door," Torres said. "He cares for everybody and will ask you about everything in your life—from your kids to your cat."
It's people like Mueller that make a clear impact on The Salvation Army, especially during the annual Red Kettle Campaign that raises public contributions—$144.7 million in 2014—to enable the Army to provide food, shelter and social services to nearly 30 million Americans in need each year.
Throughout the Christmastime campaign, corps blanket the community with the iconic red kettles and a bell ringer. In some areas, such as in San Luis Obispo County, Calif., the effort is completely volunteer driven.
With five service extension centers, branches of the Army where corps are not located, San Luis Obispo County collectively raised $280,000 in the 2014 kettle campaign with 1,034 individual volunteers and another 60 groups providing 4,640 hours of bell ringing.
Each center has a volunteer committee that coordinates the holiday effort—from scheduling to making reminder calls or picking up the kettles. Community groups and other churches sign up to fill slots, some even staging friendly competition, like the Kiwanis and Rotary groups.
"We got serious about bringing in money for The Salvation Army so we set a goal for each office," said Beth Quaintance, San Luis Obispo County Service Extension representative, who oversees the five centers. "The value of using all volunteers is that the net is our net."
In addition, Quaintance said the effort brings the community together. "We're small communities, and everyone wants to help," she said.
It's groups of young people that Hudson said most often contact her looking to engage in service. "They want to see change, and the impact they can have is huge," she said.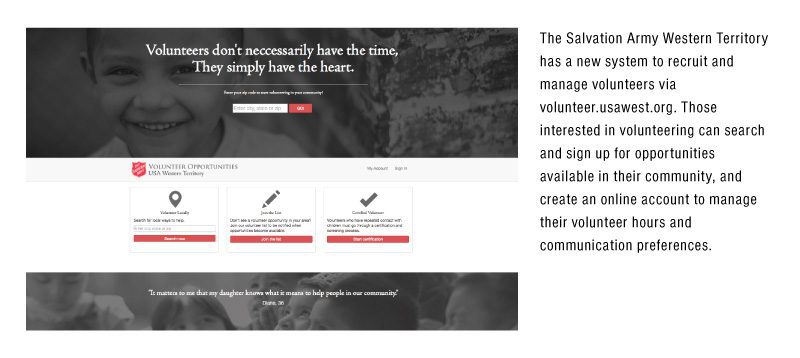 At National Headquarters (NHQ), Captain Keith Maynor, national young adult initiative coordinator, is preparing to  launch a new pilot program targeting an 18-23-year-old audience.
"We will be trying to connect to a common Christian identity and highlighting that the things that we do can have lasting impact and memory in the world," Maynor said. "Volunteering is vitally important—it's about building relationships and fostering our future for The Salvation Army."
He cited Pew Research Center 2014 data that reported that half of Millennials describe themselves as political independents, and about a third (29 percent) say they are not affiliated with any religion. "This group has an aversion to institutionalism but are still very interested in certain causes in the world around them," Maynor said. "We have an opportunity to make a connection to something they already care about."
The best marketing strategy for reaching volunteers is not to try to go for the individual, he said, but to create volunteer experiences for teams.
"When you use a volunteer in the right way, it can save you time and money," Maynor said. "More importantly, whatever experience the volunteer has with us, they carry our brand with them into the community. Volunteers are our best strategy for communicating our mission and our purpose into the world."
Divisional Events – April 12-18
Hawaiian and Pacific Islands
April 18          Divisional Headquarters | Volunteer appreciation party
Intermountain
April 18          Union Station | Volunteer recognition event in downtown Denver
Sierra del Mar
April 16          Centre City Corps | Learn and Serve – Find out what the Army does here, and donate socks, blankets, and hygiene items for distribution at the nightly community dinner.  
Southern California
April 14          Glendale Corps | Lend a hand to local families by helping to sort and organize the food pantry, and bring canned goods and non-perishable donations to restock the shelves.
April 15          The Haven | Serve veterans by turning the donation storage room into a "store" where clients can easily "shop" to find the items they need when they check in.
April 16          Bell Shelter | Help individuals experiencing homelessness by creating a space of peace and meditation in painting and updating the atrium.
April 17          Los Angeles Day Care Center | Brighten up the daily routine for children by showing your creative side in a mural project.
April 18          Santa Barbara Hospitality House | Join forces with the community for a neighborhood cleanup.