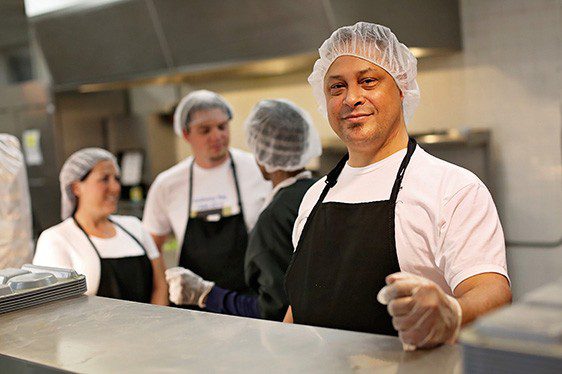 Volunteer chooses giving over mourning
By Craig Dirkes –

Anthony Raj Sr. could have spent the day all by himself, mourning the loss of his son. Instead, he chose to celebrate him by volunteering with The Salvation Army.
His son, Anthony Raj Jr., died of an overdose exactly one year earlier.
"I've been in my shell a whole year over this," said Raj Sr. "It was time to get out and do something different."
He wasn't alone. Several members of Raj's family joined him at The Salvation Army
Harbor Light Shelter
in downtown Minneapolis, where they served hot beef stroganoff to hundreds of people experiencing homelessness.
His mother, Marlene Swanson, took their good deed further by handing out new socks—380 pairs—and the recipients were thrilled.
"My grandson always valued clean, dry socks," Swanson said. "When you are homeless, they are invaluable."
Raj Jr. had been homeless, off and on, throughout his life before dying at the age of 29. He sometimes received help from The Salvation Army, for which Raj said he will always be grateful.
"The Salvation Army does so much for so many people," he said.
Raj and his mother are familiar with homelessness and addiction themselves. Both of the Brooklyn Park residents are in recovery, with Swanson celebrating 32 years of sobriety and Raj 17 years.
"I've been through these food lines before," Raj recalled. "I know what it's like."
He said he kicked his addiction by looking to God.
"Prayer is so important," Raj said. "If I could tell anybody anything, it's to get with God. You might not get where you're going the next day or the next month, but if you have faith in God, you will get there."
Raj is proof that his statement is true. During his recovery, he began working at a shoe repair shop in Maplewood, earning $8 per hour. Today, he owns the place.
Looking ahead, Raj said he plans to volunteer many more times.
"Now that I've cracked the shell, I'm ready to do more helping here and at other places," he said. "There's nothing like someone saying thank you for giving them food."