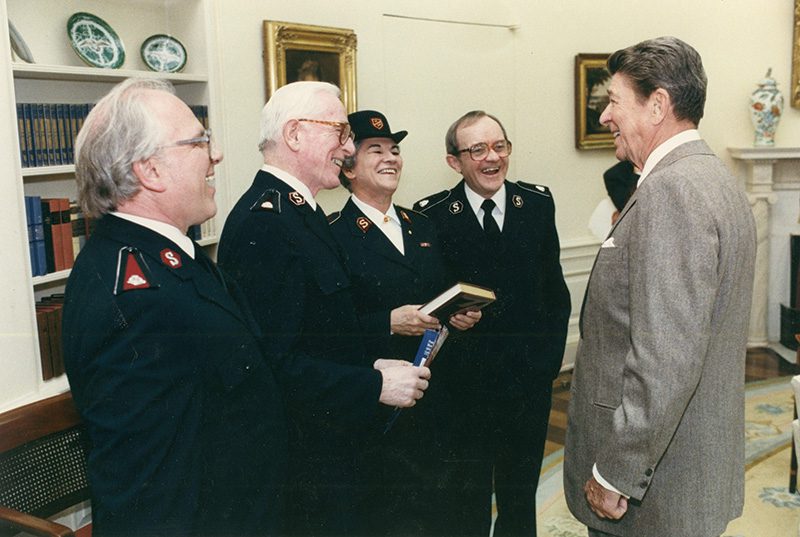 Interacting with presidents
This Presidents' Day, we look back on eight times Salvation Army representatives met U.S. presidents.
Lt. Eliza Shirley held the first meeting of The Salvation in America in Philadelphia in 1879. The following year, reports of the work there convinced Founder William Booth to send an official group to pioneer the work in the U.S.
At the time, Rutherford B. Hayes served as leader of the United States and 25 presidents have followed.
Presidents' Day, established in 1885 in recognition of President George Washington, is celebrated annually on the third Monday in February and is now a day to celebrate all of our nation's commanders in chief.
On many occasions, The Salvation Army has interacted with U.S. presidents. Here's a look at our eight favorite moments.
Salvation Army leaders stand with President and Mrs. Warren G. Harding on the White House Lawn (circa 1922).
Evangeline Booth with President Herbert Hoover (circa 1930)
President Dwight D. Eisenhower samples a Salvation Army doughnut (circa 1953).
General Eva Burrows meets President Ronald Reagan in the White House Oval Office (circa 1980s).
Commissioner Andrew S. Miller presents President Ronald Reagan with the Others Award on (July 7, 1988).
General Eva Burrows meets President George H. W. Bush in the White House Oval Office (circa 1990).
George W. Bush visits emergency disaster services response team and victims following a 2007 tornado in Kansas.
Commissioner William Roberts sits to the right of President Barack Obama at a 2011 White House meeting with Christian leaders.