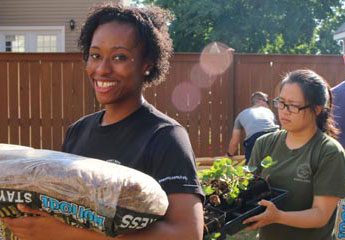 Salvation Army Boys & Girls Club in Central Virginia begins urban garden with help from Renew Richmond
Members of The Salvation Army Boys & Girls Club in Richmond, Va., working with a group from Renew Richmond, developed an urban garden on the club's property in the historic Church Hill district of the city. The garden will supply fruits and vegetables for the community and provide programming for area residents.
Renew Richmond–a non-profit organization dedicated to empowering communities to cultivate healthier lifestyles through nutrition and agricultural education–designed the garden.
"Our goal is to create a garden learning program which all projects and participants radiate outward into the local community," said Renew Richmond's Director John Lewis in a letter. "Renew Richmond is excited about the possibilities of working with The Salvation Army Boys & Girls Club, and neighboring community, to create an urban garden that will provide fresh, healthy, locally grown fruit, vegetables and information on sustainable living to the community of Richmond."
The garden, at its peak, is intended to be cared for and nurtured by community members and serve as a gathering place for those in the area of The Salvation Army Boys & Girls Club to participate in and learn about healthy and sustainable living.
"This partnership is just another example of the exciting things going on at The Salvation Army Boys & Girls Club," said Hugh Jones, the Club's executive director. "John has been great to work with and is passionate about bring this program to our neighborhood and as an organization who invests in futures, we owe to our members and community to offer this."
2014 marks the 60th anniversary of The Salvation Army's relationship with the Boys & Girls Clubs of America and operation of The Salvation Army Boys & Girls Club in Church Hill. An event celebrating the 60th anniversary of the Club will take place Tuesday, September 30 beginning with an open house at 4:00 PM and brief program at 5:00 PM. Visit Celebrating60.SalvationArmyCentralVA.orgto learn more.