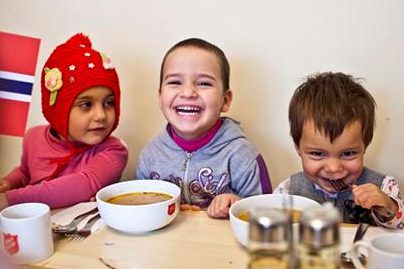 New Salvation Army community center opens in Romania
Center funded in partnership with The Salvation Army in Norway
The Salvation Army Romania, in partnership with The Salvation Army Norway, recently opened a community center in Iași to respond to growing needs in the community.
With a population of approximately 310,000 people, Iași is one of Romania's largest cities. Located in the Moldavia region, it has traditionally been one of the leading centers of Romanian social, cultural, academic and artistic life.
Over the next two years, more than 800 people will receive assistance, including access to education, healthcare, social protection and employment services. The center is funded until 2017, with Norway contributing approximately $3.4 million to the initiative through Norway Grants.
"I am very excited about the possibilities and opportunities this project gives The Salvation Army to help people in Romania, especially the most vulnerable," said Lt. Colonel Rodney Walters, regional coordinator for Eastern Europe. "Part of The Salvation Army work is to value these people. It's a great opportunity to be partner with Norway Grants in this endeavor."
The community center is part of a bigger project focused on providing vulnerable groups access to education and healthcare services as well as to employment. The initiative has two main components: building community centers in two cities in Romania (Iași and Ploiesti) and removing barriers to the labor market by creating job opportunities for the families connected to the centers.
To make the project sustainable, The Salvation Army will establish a small business, Salvatex, a clothes import and distribution center, based on the Norwegian model of Fretex.
Through the project's second component, participants will receive valuable experience in different vocations and earn a basic salary. The hope is they will experience the sense of accomplishment that gainful employment yields. Salvatex's goals are to create workplaces, give participants relevant work experience, basic skills and the ability to gain employment in the outside job market.
Ultimately, the project aims to help create a foundation for long-term change whereby families that today live in poverty can build a better future for themselves and their children.
"This center and this project are part of a larger initiative meant to build an inclusive society in Romania," said Norwegian Ambassador Tove Bruvik Westberg at the center's opening. "The main objective of the project is to reduce social and economic differences by addressing the challenges connected to poverty and social exclusion in order to make Romania a good society for all."
Romania is one of the poorest countries in the European Union, with more than 40 percent of its population (around 9 million people) at risk of poverty, according to Eurostat. The European Economic Area (EEA) and Norway Grants have provided over $350 million toward reducing social and economic disparities within Romania.
From Fresesarmeen