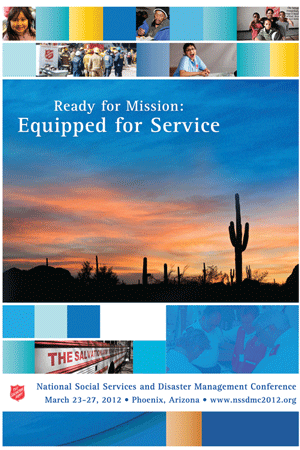 Triennial social services conference slated for March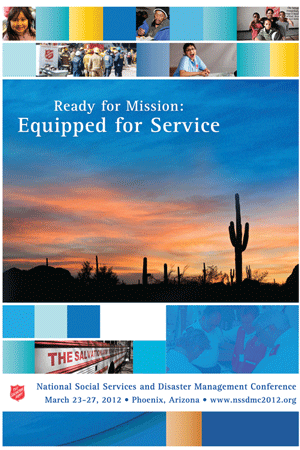 First-ever combined National Social Services and Disaster Management Conference
The Salvation Army's triennial National Social Services Conference is approaching and for the first time it will be combined with the Disaster Management Conference, slated for March 23-27, in Phoenix, Ariz.
"We are living through a time of both social and environmental challenge. Whether the result of economic crisis or natural disaster, the human needs that are a consequence of these events bring about increasing and ongoing demands to Salvation Army ministries," said Major Betty Israel, national social services director. "The National Social Services and Disaster Management Conference will be the place to share experiences and ideas, learn new skills and broaden the scope and quality of Salvation Army service."
Army providers from across the United States and Canada will join in a combined conference—themed "Ready for Mission-Equipped Service"—representing the many disciplines of delivery of social programs and the wide array of emergency and disaster management services. Over 90 workshops and pre-conference seminars will be available on such topics as social service professionals and self-care, homelessness and housing, addictions, general social service program resources, human trafficking, administration and a wide array of disaster management issues.
Plenary sessions will feature the Ahwatukee Foothills Baptist Church choir and orchestra; Commissioners James and Carolyn Knaggs, Western territorial leaders; Commissioner William Roberts, national commander; Commissioner Nancy Roberts, national president of women's organizations; and Dr. Ronald Sider, Canadian-born American theologian, founder of Evangelicals for Social Action and professor of "Theology, Holistic Ministry and Public Policy" at Palmer Theological Seminary.
"As a result of their conference experience, participants will be even better equipped to fulfill the vision of The Salvation Army," Israel said.
To learn more or to register for the event, to be held at the Glendale Renaissance Hotel, visit nssdmc2012.org.