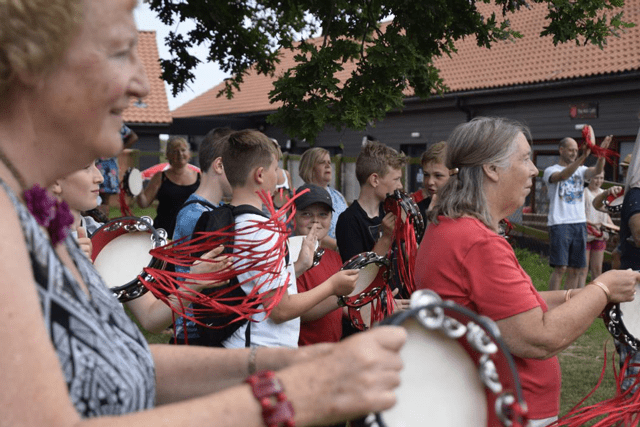 Timbreltastic takes off
Unique fusion of timbrels and Zumba is a hit in U.K.

More than 200 people have had a go at The Salvation Army's unique fusion of traditional tambourine playing and Zumba, the contemporary dance exercise class, since the Hadleigh Timbreltastic group launched in Essex, England, in June last year.
To celebrate its first anniversary, Timbreltasic leaders held a tea party June 17 at The Salvation Army Hub Café in Hadleigh Park for members, friends and special guests, including Rebecca Harris MP and Castle Point Mayor Councillor Brian Wood.
Founder of Timbreltastic, Zena Osterberg, is a member of The Salvation Army Hadleigh Temple Corps and works at The Salvation Army Hadleigh Training Centre.
"Here at The Salvation Army we really care about well-being—body, mind and spirit—and what better place to get fit, stay healthy and meet new friends than the beautiful Hadleigh Park," Osterberg said. "It's so important that people have a reason to get out of the house. My aim is to help people enjoy life to the full and leave with a smile on their face."
Osterberg is ready when question her about Timbreltastic.
"Think of The Salvation Army's traditional tambourine playing, mix it with Zumba and you've got Timbreltastic," she said. "During our first year we've met a fantastic mix of people and had a lot of fun. At our birthday party more than 40 people picked up a tambourine and danced along to Jess Glynne's 'Hold My Hand,' including our mayor, MP and visitors to Hadleigh Park."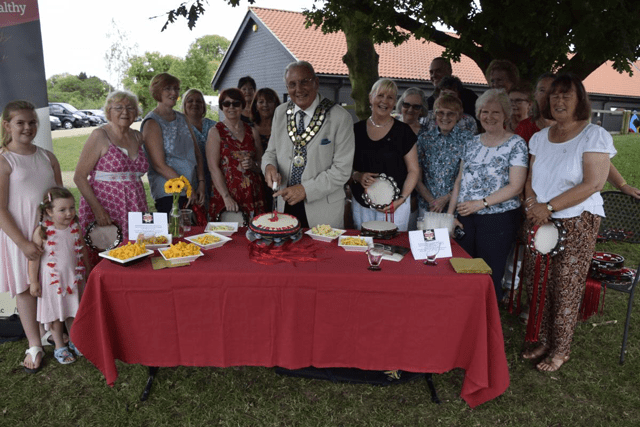 Timbreltastic is free and all are welcome. Currently the group meets every other week, usually on Friday night.
"Although not working towards performance perfection, we have attended many events where the emphasis is always on encouraging others to join us and dance together," Osterberg said.
In its first year, the group performed at the Hadleigh Park International Mountain Bike event, Castle Point Mayor's Prom night and many events at the Hadleigh Temple Corps, including its Christmas carol services. The group appeared with Salvation Army General André Cox at Poplar Salvation Army in East London for its 150th anniversary celebration.
"Getting Timbreltasic off the ground has been a team effort and I'm especially grateful for the support of my family—my son Joe designed the logo and the pull-up banners and even my dogs have posed with tambourines in photos," Osterberg said.

The Salvation Army has been at the heart of Hadleigh for more than 125 years. In addition to its church and community center on London Road, The Salvation Army manages Hadleigh Farm Estate, which incorporates Hadleigh Training Centre for adults with additional support needs, Hadleigh Farm Tea Rooms and Rare Breeds Centre as well as a partnership with Essex County Council at The Hub in Hadleigh Park, the site of the London 2012 Olympic Mountain Biking event.
"We can't wait for another year of meeting new people," Osterberg said. "Why not come along and give it a go—tambourines provided!"
For more information, find Timbreltastic on Facebook.
From salvationarmy.org.uk