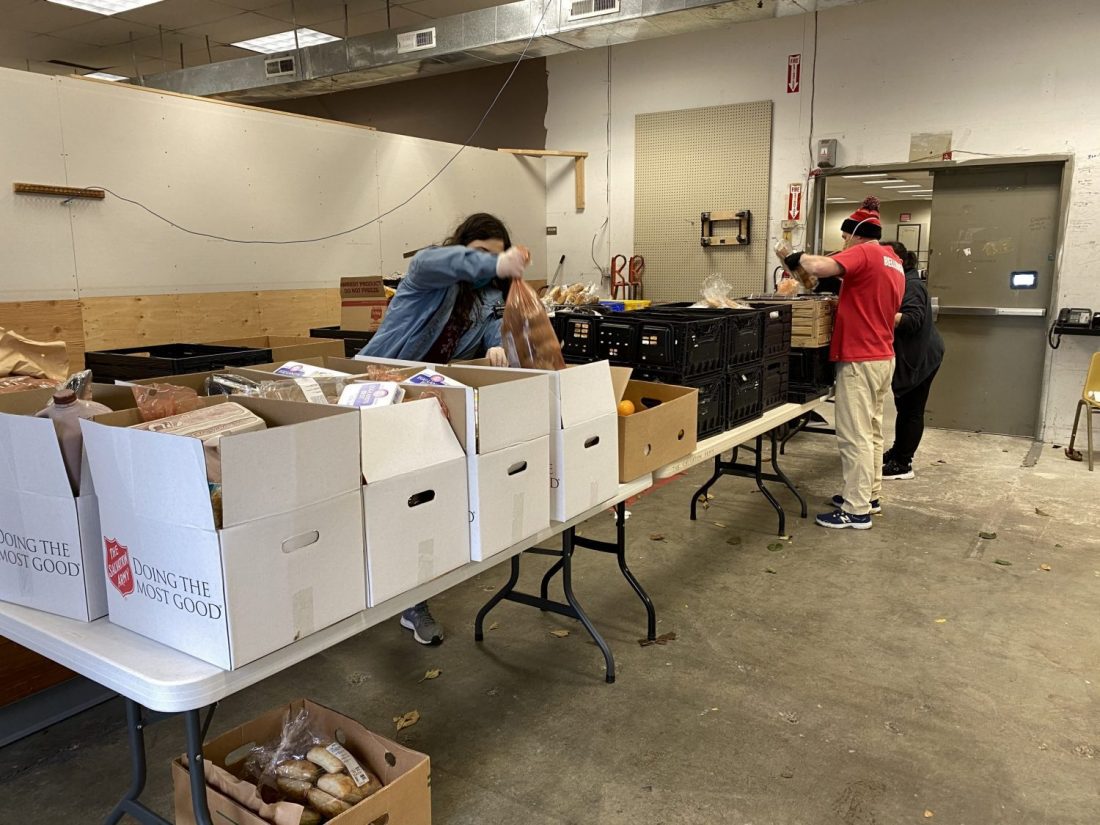 Thrift store finds new mission in food desert
New facility aims to combat food insecurity
A 15,000 square-foot facility where The Salvation Army formerly maintained a thrift store in Bellingham, Washington, has been converted into a food bank, providing pre-packed food boxes to those in need this Thanksgiving season and beyond. 
The food bank's opening day, Nov. 17, was stormy, with 40 mph wind gusts— "exactly the reason it is such a blessing to operate out of a building, rather than a parking lot," Bellingham Corps Officer Captain Ruairi Ward said.
Bellingham is a coastal city with a population of about 85,400 people, in extreme northwest Washington, 90 miles north of Seattle and 21 miles south of the Canadian border. It's the northernmost city with a population greater than 50,000 in the contiguous United States and serves as a port for ferries to Alaska.
"A number of people were very grateful that we could be open on such a stormy day," Ward said. "Inclement weather is so challenging right now for many food banks in [Whatcom] County that are operating outdoors, and because of COVID restrictions they cannot operate indoors. For us, it is important to have a robust and durable food distribution program that can stand up to the challenges presented by the pandemic and the worsening weather, so that there is never a break in service."
The food bank is open on Tuesdays and Thursdays from 10:00 a.m.–1 p.m. Any Whatcom County resident can simply walk or drive up to the building; no reservation is necessary. During their first visit, guests need to provide identification, proof of address and income (must be less than 200 percent of the federal poverty level). Guests can then receive one regular food box per visit, and additional supplemental food boxes are available. Currently, guests can visit as often as they need. All food boxes are freshly prepared and appropriately sized for the household.
In the future, when social distancing restrictions are lifted, the food bank will transition to a client choice model, and guests will be able to walk through the area to hand-select their items.
Previously, The Salvation Army had been distributing food from the Bellingham Corps, led by Ward and his wife, Captain Sarah Ward. The number of households served has increased by 450 percent since the onset of the COVID-19 pandemic, from 75 per week to over 350 households per week. 
"The new, larger space will allow us to serve more guests, and provide a broader selection of food to them," Ruairi Ward said. "There are no grocery stores in the Birchwood or Alderwood neighborhoods, so it is difficult for families to have access to fresh fruit, vegetables, meat and dairy."
When their Albertsons grocery store closed in 2016, the Birchwood and Alderwood neighborhoods officially became a "food desert"—a U.S. Department of Agriculture designation for urban areas without a supermarket within one mile. Many people in these neighborhoods live below the average-mean wage, and the pandemic has compounded the situation. Lower income households may have fewer—or no—vehicles, making it difficult to get to a grocery store farther away. And those living on a tight budget often must choose between buying food or paying rent. 
With this in mind, The Salvation Army realized it could better serve the community by using the Birchwood Avenue facility as a food bank, rather than a thrift store. The store closed at the end of October and the transition to the food bank immediately commenced. 
Northwest Divisional General Secretary Captain Jonathan Harvey told KGMI the store had been struggling financially and was hard hit by the COVID-19 shutdown. He expressed gratitude for the workers and volunteers, and for the community's support.
The new food bank aims to help with food insecurity. For the first week of operation at the new food bank location, each qualifying household also received a Walmart gift card valued at $20 that was restricted to produce or protein, such as turkey or ham. "With Thanksgiving right around the corner, we are happy to help make the holiday meal special for local families," Ward said.  
"The Birchwood neighborhood and its residents have been afflicted by severely diminished food access for far too long," said Bellingham City Council Member Hannah Stone. "I am grateful for The Salvation Army and Captains Ward for their commitment to service, willingness to listen to the needs of the community, and initiative to help bring solutions to fruition."
---
Do Good: