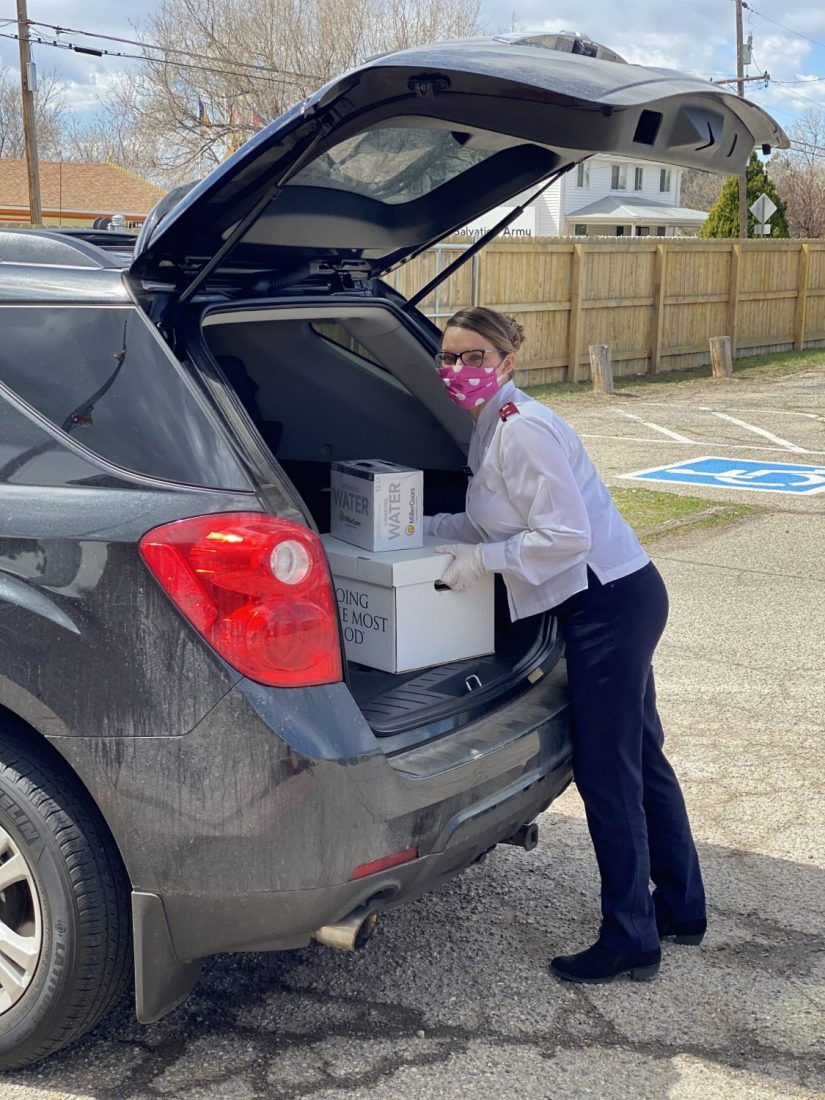 Meet The Helpers: Lt. Sarah Aguirre develops partnership to feed patients in need
Hunger is a new reality for many as the coronavirus has taken hold of communities across the country, and as a result, The Salvation Army has stepped up its services to meet the need.
In Denver, Lt. Sarah Aguirre said the Denver West Adams Corps has increased the amount of food it distributes by 75 percent.
On one recent day, she gave away 95 food boxes in just an hour and a half.
And while cars line up down the street, Aguirre said she knows there are others who can't get to The Salvation Army themselves. That's why she's developed a unique partnership with local urgent care and hospital facilities to make sure patients in need receive help.
She recently appeared on the Do Gooders Podcast to share how she's helping in the midst of COVID-19 and what she is seeing from the frontlines of service.
Christin Thieme: Can you explain a little bit more about what it means to be a Salvation Army corps officer and what your work and role is with The Salvation Army?
Lt. Sarah Aguirre: Absolutely. So when you are commissioned and ordained as an officer of The Salvation Army, you get ranked—the lieutenant being the first rank. So this is my first appointment…My husband and I are in our fourth year as officers, as lieutenants. We run a social service organization. We also head the church. So we are serving our community. We're also having worship services and our normal youth programs and all the other things that entails in most churches.
How have things changed in recent weeks for you? What are you doing now?
With the response coming from this global pandemic, we're experiencing a kind of a surge. We're seeing a surge in services and in the needs of the community. So we're tapping into our resources and we're trying to increase what we're already doing. But also just being available for spiritual care, and really just a call to love our neighbors, right. It's really just a call to kind of be present, and just practice the ministry of presence and being present for our people. May not look the same for us. Right? With the closure of churches, like the extension of our church services, our worship programs that way. Everything kind of is… It's kind of a new experience. We are doing that streaming, right? The online streaming and also trying to come up with ways to solicit still donations and food and supplies. It's really a unique ministry opportunity that I'm really excited about, actually.
Can you walk us through, what did your work look like in the last week? What did the delivery of social services look like throughout the week?
Social services have been a really amazing experience to see during a disaster… during any kind of disaster, how the community will come together. But for us in our community, we're kind of the outskirts of Denver. We are seeing a huge increase, a surge in the need, right? And the clients served. So we've increased our services by 75%. So we are serving 75% more people than we had been in the last four years. That's everything from food and utilities to the amount of people, of course, who are in need for rental assistance and mortgage assistance, and gas vouchers, clothing, shoes to get to work. Because you know, just the need has just increased tremendously.
What are you seeing as the most pressing needs right now?
Well, I would say the need for continued support through giving. Because again I said it earlier and I talk about how need knows no season. We use that a lot during our Christmas campaign with the red kettles. Just bringing awareness that this money that's raised during Christmas time stretches throughout the year. But then when there's an emergency, or there's a national disaster, or there's some kind of a pandemic like this, the need for continued giving is increased. Our services are increasing. So with that comes the need for increased support from our communities. So that can look like anything from, you know, those who can't give financially to supporting us in other ways. 
With the hoarding of supplies, it's harder to get toilet paper. It's harder to get these essential items that everybody needs. And so really just saying, "Hey, if you have extra food… canned food that you're not using that's still good, if you want to, bring that on down." Or if you have gloves or cleaning supplies or any of those things. We are just still asking that people consider sharing with The Salvation Army as we continue to try to meet the needs of everybody in our communities.
Definitely. And I understand that as part of this increase in delivery of services that you've established an interesting partnership with a local Urgent Care. Can you share more about how that came together and what you're doing?
Absolutely. So you know, it's interesting…for being a small corps, we actually have a very large community that we serve and we have a very large church family. But it's interesting with the coronavirus, and how things have changed for The Salvation Army in how we look at ministry and how we serve. The question that was posed: what are we doing to meet those needs of those that aren't able to come to us? Or they can't get through to us on the phone and, and so how are we going to reach those people out there? 
We received a phone call from someone at an Urgent Care. She was asking, "You know, these are the services I heard you have. Would you be interested in this partnership where we will, as we see the needs through our patients, … we get permission from the patient to pass their information along to you and then we connect you two and then from there we establish a system of care for them?" So we're moving into more of a case management model, but also just being able to develop these relationships with these patients, and we're taking them food boxes, we're taking them supplies, we even pick up prescriptions.
However, we are a smaller staff and so we rely heavily on our volunteers to help us with this. When I got this call, I thought, you know, this is brilliant. This is a great idea and an opportunity really to continue to minister to those that we wouldn't normally probably be having a conversation with. So we took that and we moved away from this idea of it being just this simple referral system to asking how can we reach out to the other Urgent Cares and the other hospitals in the area and develop some kind of a relationship with them? So actually, we've now established with some of our local hospitals and Urgent Cares and primary cares as well, because these doctors know their clients, and they have a relationship with their clients or their patients.
We're having other people call us and say, "Hey, we got your information from the hospital. And they said that you could help us." Sometimes the hospital will call and say, "Hey, I've got a patient who doesn't have any family in the area, and they're going to be home on quarantine. Would you be willing to help out?" So that's kind of where we are with that…This is something that could be done in other communities and if you have the means to do it, a really beautiful ministry could evolve from this.
Absolutely. I love that. How do you yourself handle all of the emotional stress that's come from this situation?
I have learned, really through officership, a lot about how to handle emotional stress, and what I need for myself, personally. But I think it's the idea of learning how to eliminate living in a quadrant or in a lifestyle where you're constantly functioning from the hectic side and moving more toward soul care and understanding what you need individually. For me, I have to remember for myself, I need time to recharge and for me that time of recharging is quiet. So I have to have time alone. I'll read or I'll get into God's Word. Maybe I'll get on the elliptical and do some exercise. But for me, the emotional care comes from my personal soul care and I need to be maintaining a healthy balanced life and that I just make sure I get good enough sleep, make sure I'm eating properly, make sure that I'm spending time alone in prayer, and that I'm in communication with God.
This is something that I continue to tell people, especially right now during times like this, that you cannot isolate, and you can't continue to function in workaholic mode. Right? It's really easy for us as officers to just constantly be in work mode…We're always on call. So we have to remind ourselves to take time to slow down and not live a hectic lifestyle, but to function out of the healthy aspect of that. That is taking time to slow down, even in the midst of busyness, and remember that the enemy will attack those who isolate. He will attack us if we get fatigued and exhausted and emotional, and all of those things that come with being tired and grumpy. So it's important that we put ourselves and our needs for spiritual and soul care first sometimes. We can't feed others if we're not being fed ourselves.
So that's a definite practical tip for people who you are coming in contact with who are scared about the entire situation. What do you point them toward in terms of your faith?
I preach a lot on the battle of the mind…How important it is that we control what we put into our minds…We have to be constantly in the Word and knowing the Word in order to protect ourselves…For those that are alone, who are feeling scared and vulnerable, who are lonely—and if you're already in isolation because you're being quarantined or something like that—you have to remember that the devil attacks those that are isolated. 
If you think about the lion, and when you see the shows where they're showing them preying on their prey, what do we always see? They go for the most vulnerable. They go for the ones that are alone, the ones that were the most tired, the most defenseless, and the ones who have been separated from the others. So I say we're not able to come together as a congregation right now in person, but it's so important that we continue to be together in numbers in faith and in prayer.
That's why 1 Peter 5:8 talked about this picture of being vulnerable and what the enemy will do. I also tell my people, my congregants, and I tell others during this time, it's really important for us to remember what the Word of God says. If you look at Hebrews 10:24, it says, "Let us think about each other and help one another to show love and good deeds."
I think for the rest of us, we need to remember that right now…our call as Christians and our charge as Christians and brothers and sisters in Christ is to love one another and to put others' needs before our own. So we're called to love our neighbor and to take care of our neighbor….We have to go back to our faith and we have to be intentional to serve and love one another.
And I think remembering that we need to be people on our knees and praying, we need to continue to be in prayer for one another. Yeah. Just going back to our faith, right? Just remembering what our call and what our charge as officers is. And that is not to be afraid, and not to allow the enemy a foothold but to come together in whatever means possible, to lift each other up, to be of service to one another.
So along those lines of helping your neighbor, can you share a story that may be something you've witnessed or heard about in the last few weeks of some sort of kindness or selflessness that you've seen?
Absolutely. Yeah. As a matter of fact, I love this, because we can bring attention to the good, instead of the bad…I got a phone call the other day, and our food bank had closed for the day. Actually, we ran out of food. We're serving right now anywhere from about 80 to 120 people in a five hour period. Usually, our food is gone well before that. But I had been praying, "Lord, you know what? You know the needs. You know what we need. You know what the people need. I'm just going to trust that you're going to continue to meet the need." We had run out of food. I had a line. It was the craziest day ever. I had a line of cars. We did 95 food boxes in an hour and a half. And at this point I was just pulling what I could from where I could. But I had to put the sign up. It said, "We ran out of food."
We were waiting on the truck to restock and I shut the gate and I thought, "Okay, they're going to see the note. They're going to come back." At this point, there's only an hour and a half left of the day so they're going to see the note. They're going to come back tomorrow. When the truck showed up, I went to open the gate and I had cars two blocks down, lined up waiting for the gate to open.
I was like, "Okay, God, you need to help me." But when I finished unloading the truck, I got a phone call and it was this gentleman. He goes, "Oh, you know, are you getting away soon?" I said, "Yes sir. I am, but I'm really sorry…I've run out and I'm waiting to restock."
He goes, "Oh, no, no, no. I have food I want to give. I want to donate." He said, "You know, we saw The Salvation Army. We saw the news and we saw the need and we want to help The Salvation Army. We love The Salvation Army. So we've gone around collecting food, and we've gotten food, and we purchased food and we just want to bring it so we're dropping it off."
I thought what a great idea. I was just so touched. When they came, they were actually an elderly couple and they didn't have masks or gloves. I was kind of concerned. I said, "You know, if you're going to be out serving and helping others, you should really be wearing a mask and gloves." He said, "We're doing our best to social distance. But God really has impressed upon my heart that we need to be out serving those that are serving on the front line." So he was going around to the hospitals, to the nurses, to the doctors, to The Salvation Army, and he was delivering food and meals, and everything else that he could. This is just what they were spending their day doing.
I thought to myself, that they were thinking about those who were putting themselves at the most risk. Right? Aside from the ones who are elderly and at risk, or those who have preconditioned health conditions. They were here at a higher risk themselves, being senior citizens. But they were like, "No, we're not going to let this stop us. We're going to go out and we're going to. We want to serve those who are doing the most good." So they were going and purchasing food, and hot meals, and whatever they could and doing what they could. They had their own little food drive going and they were just bringing it around. Trying to help that way.  
It really touched my heart in such a big way and it's exactly what I needed that day. Because it was just such a reminder of the good that we still have in the world. So we don't have to look and focus on the negative so much. But to look for the good. And those people really, they were the good. They brightened my day.
---
Do Good: 
If you'd like to make a monetary donation, please click here to make a gift.
Text 'GIVE' to 52000 to make a $10 donation to The Salvation Army. This will automatically add a one-time donation to your next mobile phone bill.
For information about volunteering, please visit volunteer.usawest.org.
To learn more about how to support The Salvation Army's relief efforts, please click here.