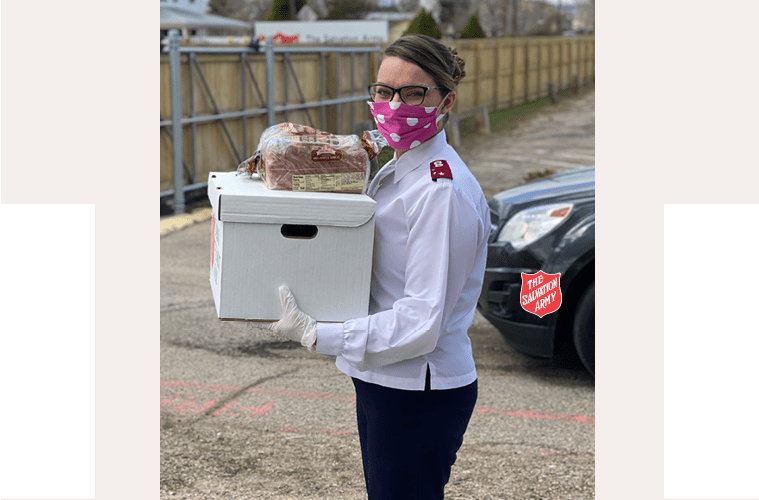 51: Meet The Helpers | How The Salvation Army is getting food to patients in need with Lt. Sarah Aguirre
Hunger is a new reality for many as the coronavirus has taken hold of communities across the country, and as a result The Salvation Army has stepped up its services to meet the need.
In Denver, Lt. Sarah Aguirre said the Denver West Adams Corps has increased the amount of food it distributes by 75 percent.
On one recent day, she gave away 95 food boxes in just an hour and a half.
And while cars line up down the street, Aguirre said she knows there are others who can't get to The Salvation Army themselves. That's why she's developed a unique partnership with local urgent care and hospital facilities to make sure patients in need receive help.
She's on the show to share how she's helping in the midst of COVID-19 and what she is seeing from the frontlines of service.
Show highlights include:
Work and role of Salvation Army officer: Run social service organization, head the church, hold worship services and youth programs 

What has changed recently: Surge in services and needs of the community, new ways to hold service, solicit donations

Most recent work: Increased services by 75%

Most pressing needs: Continued support through giving

Partnership with local urgent care: Moved to a case management model to address specific needs of patients

Handling emotional stress: Soul care and understanding what you need individually

Point people toward faith: Serve and love one another

Fear: Those who function out of fear will be targeted; the devil targets those who are isolated

Danger of isolation: Even if we can't be together in person, we must come together in faith and prayer

Helping neighbor example: Elderly couple created their own food drive and were spending days delivering food and helping others 
Good words from Lt. Sarah Aguirre in this show:
"Social services have been a really amazing experience to see during a disaster… during any kind of a disaster, how the community will come together."
"We're having other people call us and say, 'Hey, we got your information from the hospital. And they said that you could help us.' Sometimes the hospital will call and say, 'Hey, I've got a patient who doesn't have any family in the area, and they're going to be home on quarantine. Would you be willing to help out?'
 "We can't feed others if we're not being fed ourselves."
"So I say we're not able to come together as a congregation right now in person, but it's so important that we continue to be together in faith and in prayer."
"We have to go back to our faith and we have to be intentional to serve and love one another."
Additional resources:
Download this episode wherever you get your podcasts. Find show notes for this episode and more at caringmagazine.org/podcast. Connect with Lt. Sarah Aguirre at the Denver West Adams Corps.
[button color="yellow" size="normal" alignment="none" rel="follow" openin="newwindow" url="https://podcasts.apple.com/us/podcast/the-do-gooders-podcast/id1462063355″]SUBSCRIBE AND LEAVE A REVIEW[/button]
---
Do Good: 
If you'd like to make a monetary donation, please click here to make a gift.
Text 'GIVE' to 52000 to make a $10 donation to The Salvation Army. This will automatically add a one-time donation to your next mobile phone bill.
For information about volunteering, please visit volunteer.usawest.org.
To learn more about how to support The Salvation Army's relief efforts, please click here.