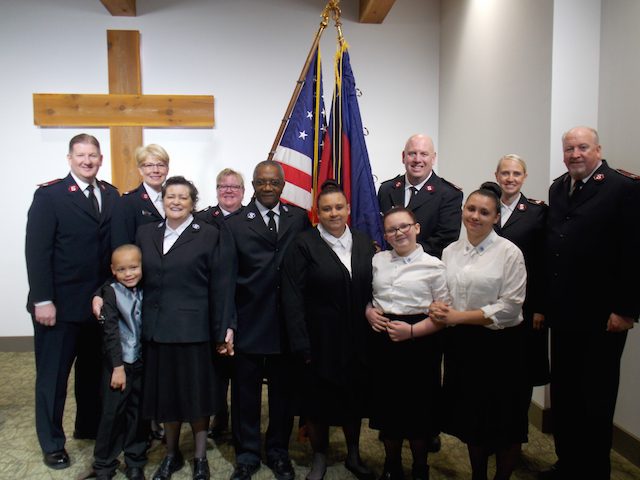 Three generations enrolled in Bremerton
Polly Key, her daughter and granddaughters find a church home.
What began for Polly Key with a simple meal at the Bremerton, Wash., corps culminated recently as she, her husband, daughter and two granddaughters were enrolled there as Salvation Army soldiers.
Their enrollment was part of a special dedication service for the remodeled and expanded Bremerton Corps. Guests included Colonels Doug and Colleen Riley, territorial chief secretary and secretary for women's ministries, respectively, and Majors Bill and Lisa Dickinson, Northwest divisional leaders.
Hunger initially led Key and her husband, Charles, to the Bremerton Corps, which serves a meal each weekday at noon for anyone who is hungry.
Kindness and an invitation brought them back to the corps.
During that first meal, the couple received an invitation to return for worship, and Polly Key decided to check out the "church part" of The Salvation Army.
"There is never a harsh word, and people are loved and respected for who they are," she said.
She liked the worship services, too.
"I look forward to [Corps Officer] Major Scott Ramsey's messages from the Word of God," she said.
One thing led to another, and Key found ways to give back. She began volunteering at the corps' Hygiene Center, where people experiencing homelessness can use showers and laundry facilities. And she offered to set up the Clothing Closet, which she now runs as a volunteer.
Key soon invited family members to the corps: her daughter, Nowassa, and her granddaughters, Nashawna (13) and Emilee (11).
"I love the nice people, the songs, and learning about Jesus," Nashawna said.
Emilee said she looks up to her grandmother and to "her Majors"–Ramsey and his wife, Cherilee–and enjoys "learning something different every week in Sunday school."
The girls completed junior soldier training and now proudly wear their Salvation Army uniforms, which Nashawna believes will help her witness to others.
Scott Ramsey expects others will cross the bridge from social services to worshipping at the corps.
According to Ramsey, the Bremerton Corps now averages over 4,800 meals served per month, including not only the weekday lunch but also an evening meal for the corps' shelter guests.
Ramsey credits the community for its support of the corps' expanded services.
"The community support that we have received through the capital campaign has made the long-held dream of better services for the homeless a reality," he said. "We are seeing a difference every day in how we can serve those in need…God is blessing in very special ways."
With reporting by Major Marilyn Gregory