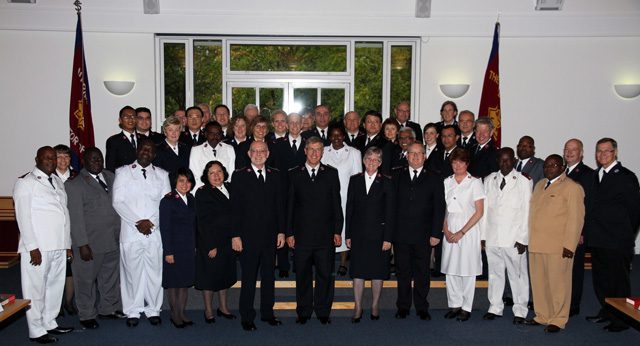 Fourth International Theology and Ethics Symposium convenes
Forty-seven Salvationists from around the world met Oct. 8-12 at Sunbury Court in the United Kingdom for the fourth International Theology and Ethics Symposium, focused on "Jesus—Universal Lord and Savior."
"It is a statement that countless Salvationists throughout the world take for granted. The words speak of the one who is the heart of our faith. We have accepted him as Savior, we worship him as Lord and we believe both his love and his power are 'boundless,'" said Commissioner Robert Street, International Doctrine Council chairman, in his keynote address. "This week we are invited to examine the statement, to consider its implications both individually and universally and, crucially, to identify ways in which the Army can communicate its truths to a divided, diverse, uninterested, hostile or unbelieving world."
Eight papers were presented on The Jesus of History, The Christ of Theology, Christ and Culture, Universalism: Will all be saved?, Servant Lord, All things Under his Feet?, From What to What? and Christ Alone. Each can be read in full via salvationarmy.org/ihq/doctrine.
"Only through both contributing and listening can we add to our collective experience and understanding," Street said. "The Salvation Army is made up of people from all walks of life, people who have differing ways of learning, who speak truth in a variety of ways, who understand God as he has been made known to them. … Be God's gift to each other."
In his paper presentation, Major Geoff Webb, from the Australia Southern Territory, affirmed: "A robust understanding of the uniqueness of Jesus Christ as mediator of our salvation will be necessary for The Salvation Army as it responds to the complex reality of the world in which we live out God's mission—'the whole world redeeming.'"
Small groups later reviewed and assessed what delegates perceived to be the major challenges to proclaiming Jesus as "Universal Lord and Savior" in their home territories, ranging from cultures of indifference to ones of extreme hostility. Each group then presented one issue, outlining its importance and offering suggestions for a practical response; these were collected together in a concluding plenary session.
While in London, delegates toured Hampton Court and International Headquarters, and enjoyed an evening musical program at the Staines Corps. The symposium concluded with Sunday worship, and Street's message applied the apostle Peter's response to "come, follow" Jesus.