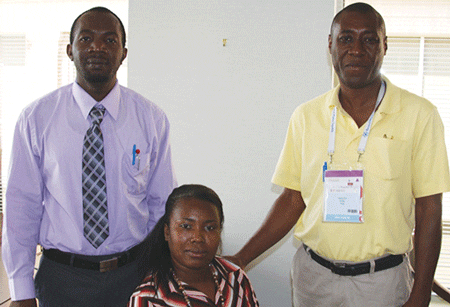 The Salvation Army's impact on AIDS
Nearly 25,000 leaders, experts and survivors attended this summer's 19th annual International Aids Conference in Washington, D.C. The Salvation Army World Service Office (SAWSO) was also present at this year's event.
Sara Davis, HIV/AIDS technical advisor for SAWSO, said the conference helped her keep abreast of new advancements made in the field.
"It was good for me to know where the direction of programming is going and it also highlighted some of the new science findings," Davis said. "It was very beneficial to my work."
Among the international visitors were three representatives of The Salvation Army of Haiti, and quite possibly the conference's greatest sources for understanding the true effects of the HIV/AIDS pandemic.
Wesley Noel, an HIV/AIDS coordinator at The Salvation Army in Fond-des-Negres stopped by The Salvation Army's National Headquarters on the last day of the conference along with colleagues Julien Saint Val and Marie Cerole.
Starting with The Salvation Army in 1991, Wesley has seen The Salvation Army's HIV/AIDS program in Fond-des-Negres grow to 3,000 individuals. Currently, he helps oversee the treatment, prescription distributions and home visitations of 900 active program participants, 200 of which are children. The remaining 2,100 are on an ever-growing waiting list for treatment.
He stated the 91 Salvation Army volunteers who make daily home visitations are vital to the effectiveness of the program by ensuring participants are taking their daily treatments. One missed dosage can completely sabotage the effectiveness of the treatment plan.
Why would anyone choose not to take their medicine? Wesley explained the medicine requires one to eat, but sadly, many individuals in the program are also lacking food. Thus, The Salvation Army works to meet this basic need also and ensure participants have food on the table each day.
If you would like to support The Salvation Army's work there, please visit the international donation page and make sure to choose 'Haiti' in the 'Country of Residence' field.