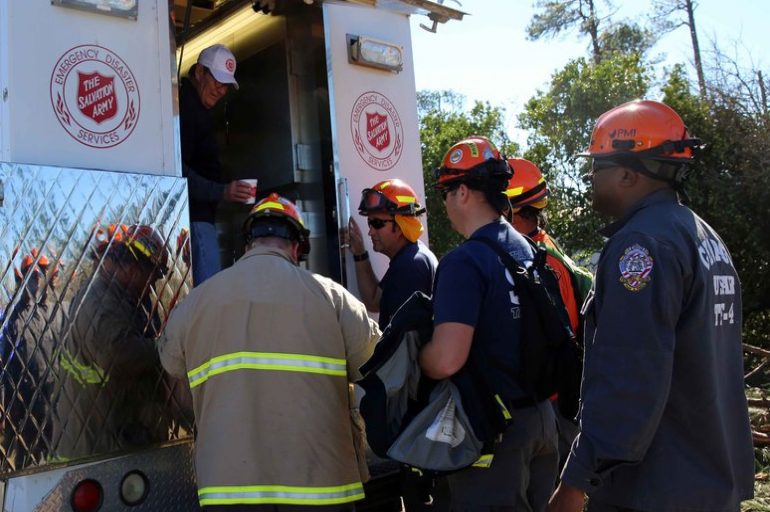 The Salvation Army serves firefighters in Georgia
Emergency Disaster Services teams have provided over 1,000 meals so far.
By Donald Felice –
The Salvation Army responded to a request from the Charlton County local emergency management authorities in Georgia to provide food and hydration to firefighters battling a fire spreading beyond the Okefenokee swamp and threatening residents of St. George and Folkston.
The West Mims fire has already burned more 140,000 acres in the area. More than 600 firefighters from across the country are now working to control the fire, which started with a lightning strike.
A Salvation Army canteen from St. Marys, Georgia, moved quickly to provide food and hydration to firefighters working around the clock fighting the fires. Local authorities estimate that this may be an extended disaster response due to the drought and wind conditions in the area.
The Salvation Army has provided 1,160 meals, 1,425 snacks, and 629 drinks. The canteen from St. Marys will continue its feeding and hydration operation and has established schedules for prepping and serving food for the upcoming weeks. Local emergency management is coordinating delivery of food to responders as they take breaks to eat and return to the work of fighting the fires.
"This response may take a good while, so we really need volunteers who will be able to help for an extended time," said St. Marys Service Director Charlene Sears. "We are preparing to help the firefighters for as long as they need us."
To volunteer or donate needed items locally, Service Center Director Sears asks people to contact The Salvation Army of Camden County at 912-882-2200. Items most needed are shelf-stable foods, snacks, water, soft drinks, single packaged eye drops and lip balm.