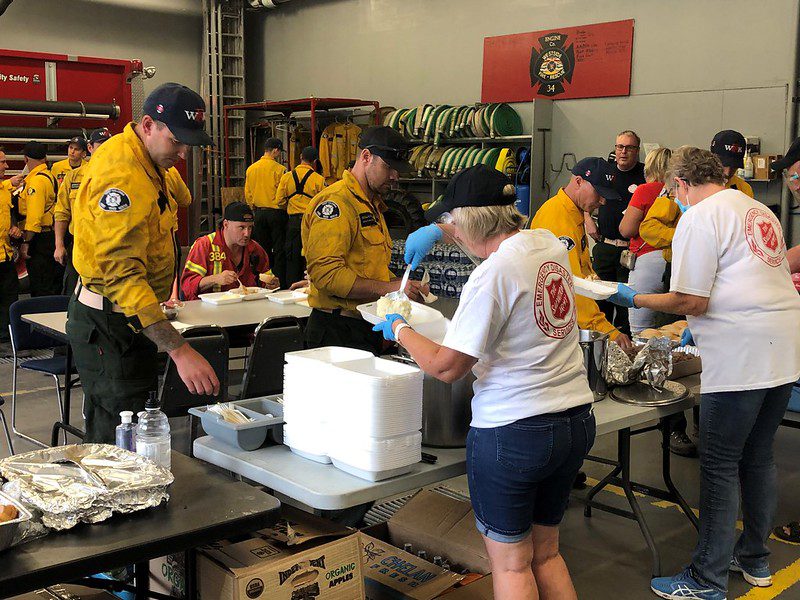 The Salvation Army responds to wildfires in North America and Europe
As more than 260 wildfires continue to sweep across Canada's British Columbia province, bringing destruction and unthinkable loss, Salvation Army staff and volunteers are providing assistance to evacuees and first responders in multiple communities. Thousands of miles away, The Salvation Army is also responding to similar wildfires in Greece. 
As of mid-August, more than 3,000 square miles of land in British Columbia had been engulfed by flames and nearly 8,300 homes ordered to evacuate. A further 22,700 homes are on evacuation alert. Salvation Army emergency disaster services (EDS) workers were initially deployed after a fire destroyed the village of Lytton at the end of June. 
The Salvation Army's Kelowna Community Church was transformed into an evacuation center for Lytton residents fleeing the flames. In partnership with Food Banks BC, The Salvation Army has an ongoing operation in the area, delivering food and supplies to more than 500 people in six Indigenous communities located around Lytton. The Army is on standby to support Lytton's re-entry plan when details are released. 
Four hours east of Lytton, The Salvation Army is feeding evacuees at the reception centre in Vernon. It is also supplying drinks and snacks to staff and volunteers at the provincial donations warehouse, as well as staff and volunteers from the Canadian Disaster Animal Response Team. 
In Kamloops, The Salvation Army is providing weekly feeding relief to the Tk'emlúps te Secwépemc First Nation as they host wildfire evacuees and Indigenous firefighters. As well, the Army's EDS has been activated to feed up to 100 evacuees at an Emergency Support Services group lodging site in the city. 
EDS crews have also been deployed to provide food to hundreds of firefighters battling blazes near Logan Lake and West Kelowna. 
As of August 16, The Salvation Army had provided 6,000 meals, 10,000 drinks and 5,500 snacks, and helped 27 people with emotional and spiritual care. 
"It's a devastating situation," said Perron Goodyear, Territorial Director of Emergency Disaster Services for Canada and Bermuda. "We are committed to providing support for as long as we're needed." 
Meanwhile, fires continue to rage just north of the Greek capital, Athens. These have triggered numerous evacuation orders for villages in the predicted path of the blaze, as firefighters struggle to contain the fire.
Evacuees are being temporarily housed by hotels in a safe area of Varympompi, in the northern suburbs. Salvation Army officers have been in dialogue with accommodation providers to ensure that evacuees are not left on their own. Support, a listening ear and the provision of care packages have been offered. Clothing has been provided where people had to leave their homes at short notice. 
Lt. Leveniotis, leader of The Salvation Army in Athens, has headed a team of volunteers who have been dispensing cold drinks and bags of personal hygiene items such as soap and shampoo from a street distribution point. Teams have also been in action in nearby Agios Stefanos and Afidnes, areas which have also been affected.
Speaking on the Newsroom programme on the Greek national SKAÏ TV network, the lieutenant explained: "We have brought necessities, shampoo, lotion, toothpaste … special masks to protect people from the smoke, and so on. We are here, people can pass by and take a small bag. We [also] have food here, there are croissants, water. We do what we can for the people. One helps another; [people tell us to] give to those who need things most, and do not take items themselves if it would deprive someone more in need."
Regional leader Major Beat Rieder-Pell added: "The next few weeks will direct the amount of help that will be dispatched from The Salvation Army in Greece in this tragic crisis, as we also anticipate and plan for the impact of thousands of newly-arriving refugees from Afghanistan."
From reports by Kristin Ostensen and Major Beat Rieder-Pell
IHQ Communications, International Headquarters 
---
Do Good:
What cause best fits your personality?

Take our quiz

and discover where you can make the biggest impact today in the Fight for Good.

Want more content from Caring Magazine?

Follow us on Instagram

! Get caught up with the latest stories, podcasts and more to inspire goodness in your life.