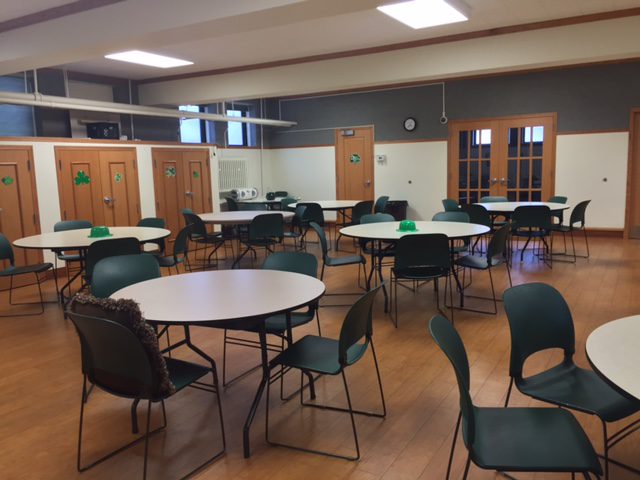 The Salvation Army in Wisconsin tackles child hunger with new kids café
Kids facing food insecurity in Racine, Wisc., will soon get the opportunity to plan, cook and eat their own USDA-approved meals.
By Ariele Vaccaro –
For Major Ken Nicolai at The Salvation Army, the reality of child hunger in Racine, Wisc., is too real to be left unaddressed. In response to an increase in food insecurity, he and his staff are spearheading an initiative aimed at keeping local kids nourished and healthy.
The Salvation Army of Racine's new kids café is set to open this spring and it couldn't come soon enough.
Nicolai watches students line up at The Salvation Army's door on the weekends, awaiting Sunday school and the possibility of a meal.
"Many of the kids come here just to get something to eat," Nicolai said. "That's what really met our conscience."
Food deserts are a familiar concept to Racine's youth, some of whom Nicolai said get most of their meals at school via free breakfast and lunch programs. Child poverty in Racine stands at 34.6 percent, according to the most recent report by United Way. That far exceeds the national rate of 22 percent, according to the National Center for Children in Poverty.
The Salvation Army's current efforts to counter child hunger include a food sack program, through which the nonprofit supplies 281 students from nine area schools with a bag of non-perishable food items every week.
However, Nicolai wanted to do more.
At the café, students under age 18 will have the opportunity to make and eat their own home-cooked, nutritious meals, all modeled after the USDA's latest nutritional guidelines. Nicolai expects between 30 and 40 children to take advantage of the daily program.
The new kid-run restaurant will be housed at The Salvation Army's headquarters at 1901 Washington Avenue. Students will receive a wholesome snack upon arriving at the café. Later, they will plan and make dinner, then eat family-style at a table alongside their peers.
"We want them heavily involved in the whole operation," Nicolai said.
But before the kids begin slicing, dicing and sauteing with the help of an experienced professional, Nicolai plans to revamp the kitchen. For now, it's a modest room, equipped with a stove and small dishwasher. Soon, it will sport all stainless steel counters, an economy-sized dishwasher, and handwashing stations. Once finished, Nicolai believes it could be a place for kids to gain safe, hands-on hospitality experience.
Until then, kids will sit down to a hot, catered dinner brought to them by a local restaurant. Some Racine businesses have already stepped up to take part.
To pay for the renovations and nutrient-rich food, The Salvation Army is getting help from the Department of Public Instruction through a Child and Adult Care Food Program grant. The Salvation Army will get $3.08 for every meal it offers.
Still, Nicolai is just as concerned about a healthy body as he is a healthy mind. He noted that consistent, healthy meals can help a child succeed in school.
When kids are guaranteed a healthy meal, Nicolai believes they will be inspired to guarantee the community with better access to healthy food.
And in sitting kids down together for a wholesome meal all their own, he hopes to instill in them a sense of community.
"They're not in this all by themselves," Nicolai said.
The Salvation Army of Racine has reached about half of its fundraising goal for the program. To learn more or donate, visit the organization's website or call (262) 632-3147.