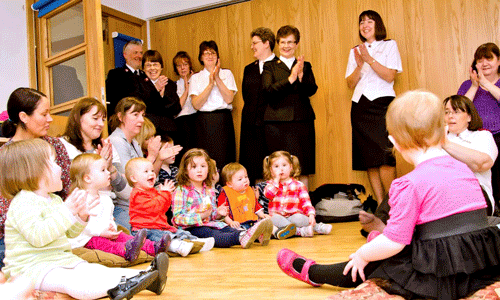 The General Reveals Welsh Links During Visit to Land of Song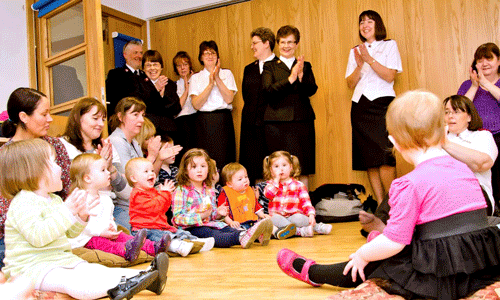 'SONGS of praises', as featured in the great Welsh hymn 'Guide Me, O Thou Great Jehovah', resounded throughout the visit to Wales by General Linda Bond. 'Cwm Rhondda' is the name of the tune most commonly associated with the hymn, so it was fitting that the Saturday Showcase – the first event of the General's visit to the South and Mid Wales Division of The Salvation Army's United Kingdom Territory with the Republic of Ireland – was held in Penygraig, in the Rhondda Valley (Cwm Rhondda in Welsh).
This showcase featured 18 different expressions of divisional ministry, including the Williamstown Babysong group. The General showed great interest as she mingled with participants and visitors. The event concluded with a Gymanfa Ganu (singing festival) in which Salvationists treated the General to a feast of traditional Welsh hymn-singing in both English and Welsh.
The General revealed a special connection to Wales. She told members of the capacity congregations: 'I'm a coal miner's daughter – I feel a strong link to the Welsh Revival of 1904.'
During Sunday meetings at the Princess Royal Theatre, Port Talbot, the General spoke about her conviction to share the Word of God and challenged everyone to meet with God and to allow him to meet with them.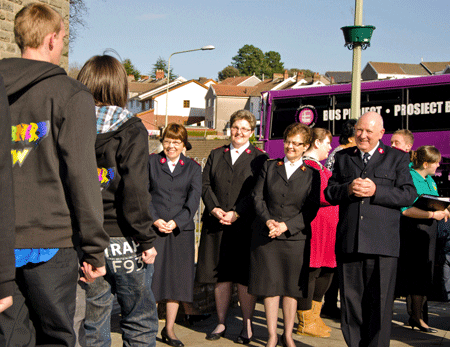 Music sections from Risca, Pentre, Swansea and Morriston all contributed to the preparation for hearing God's voice through his Word. Personal testimony from Sarah Halfpenny (Morriston) enlightened the congregation about the Army's work in Sri Lanka and the privilege she feels to be a part of an international movement. Steve Evans (Pentre) shared how his long burden of ill-health and the miracle of kidney transplants made God's gift of a new life even more poignant.
Words from Psalm 24 challenged Salvationists to experience holiness and transformation and to commit themselves wholeheartedly into God's hands. In a time of divine communion, seekers claimed God's grace.
Divisional Commander Major Peter Moran commenced the final meeting with the annual State of the Division report. He emphasised that the division was grasping The Salvation Army's International Vision – One Army, One Mission, One Message. He also highlighted successful social and community services programmes and the divisional commitment to resource corps, re-energise failing situations and encourage home-grown leadership.
Using the theme 'The Harvest is Large – The Labourers are Few', the General expounded on the Word of God. As people reflected on the needs all around them and the call of Jesus to respond, the gentle Spirit of compassion moved throughout the arena, resulting in a continuous movement of seekers making public commitments or recommitments to the Lord.
The experience of a Spirit-filled weekend was sealed by the General personally greeting every congregation member as they left the building.
Report by Major David Emery