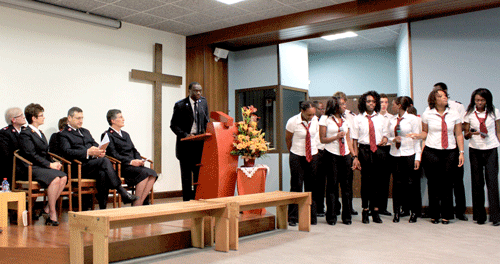 The General Makes Strong First Impression in France and Belgium Territory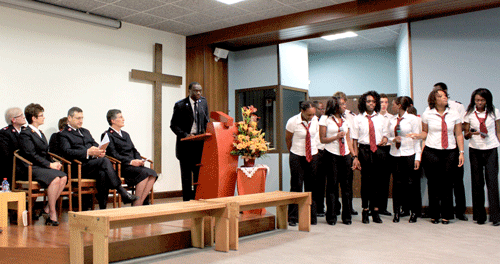 Making her first visit as international leader to the France and Belgium Territory, General Linda Bond left the territory's Salvationists in no doubt as to her strong convictions or her ability to share her message with great simplicity. The visit – to Paris, France – began with the General spending time with officers and the directors of various headquarters services. This was followed by a public meeting.
After a time of praise led by the Give Thanks worship group, Aline Chassagnot, coordinator of The Salvation Army's épicerie social (a low-cost food market for families in difficulty) gave her testimony. She spoke about the hopeless situations faced by some of the people she works with but affirmed that her faith in God helps her to discern the light that exists in each person.
Another testimony was given by Emmanuel Dora, who spoke of his confidence in the plans of peace that God has for those who seek his presence in their lives. 'Christ is the centre of my life,' he said, 'giving the right direction for my actions.'
In her Bible address, the General spoke of the expectation people have of Christians living in their communities. She called on the Salvationists present to be sure of their calling, challenging them to forge ahead with love in a lost and desperate world, bearing a transforming message that brings liberty and hope.
She said that today's methods of reaching people with the gospel may have to change from what has worked in previous generations, explaining that people are often more sensitive to a witness based on a lived experience rather than logical arguments. She challenged the congregation to ensure that people see in them a way of living which is coherent with their convictions, built on their trust in God.
The Salvationists of the territory quickly became aware of the strong convictions of their international leader as well as the simplicity with which she expresses her message. The General gave a powerful reminder of The Salvation Army's International Vision: one army which has one mission, to go to people who are suffering, those whose lives are broken and those who have been excluded from society, with one message – of the infinite love of Jesus.
The event included participation by the territorial band, a choir from Boulogne Billancourt Corps and the 'Give Thanks' group from Paris Les Lilas Corps.
Report by Major Emmanuel Westphal