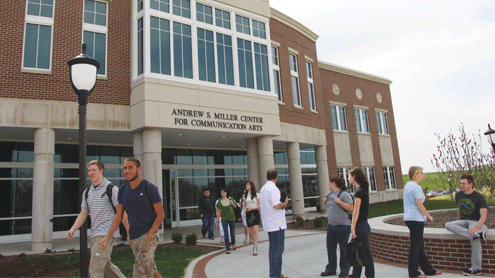 Telling the story
Andrew S. Miller Center for Communication Arts opens at Asbury University.
By Alma Bahman
Attention Salvation Army youth considering higher education in the communications field!
Asbury University sees storytelling as a responsibility and the School of Communication Arts is serious business—show business, so to speak. The university features a new center for communication arts, named in honor of Commissioner Andrew S. "Andy" Miller, who was promoted to Glory early this year.
Though its campus is located in Wilmore, Ky., Asbury University is everywhere in the world of communications. Since 1984, the university has worked with Olympic Broadcasting, sending the only U.S. media students invited to work on game broadcasts in Beijing, Torino, Athens, Salt Lake City, Sydney, Atlanta, Vancouver and soon, London.
Communications students have worked with major public relations agencies in New York City and have the opportunity to provide services for nonprofit organizations. Media students have won more than 300 regional, national and international awards. Asbury alumni have won 15 Emmy Awards.
The communication arts department aims to prepare students to "communicate truthfully and effectively in this age of diversity" while entwining an understanding of Christian philosophy.
Now, with a brand new building, students can acquire the ins and outs of public relations, journalism, communication and theater in a state-of-the-art learning environment where the fields can work collaboratively.
The Miller Center
The Andrew S. Miller Center for Communication Arts, designed by Sherman Carter Barnhart architects, combined the previously scattered department into one cutting edge, $12.6-million, 52,500 square-foot building. It's designed like a movie set with all the trimmings.
"We're excited for all the potential this building has for our students," Dr. Jim Owens, dean of the School of Communication Arts and media communications professor, said at the March 4 dedication ceremony. "Our goal was to immerse our students in creativity, and they've spent hours just walking through the building, reading and learning."
The center has a convergence newsroom for The Collegian, WACW, WASB-TV and online news, a 120-seat movie and media theater, two multimedia production labs, audio and video editing suites, a professional level recording studio, a 6,000 square-foot soundstage modeled after 20th Century Fox's Hollywood studios, a 5,000 square-foot black box theater, an interior and exterior backstage for filming, dressing rooms, a green room, prop storage, a set construction shop, and a garage area for the production trailer. It even has an eco-friendly geothermal heating and cooling system.
"The design of this building is not just functional, it has to work as a movie set," Randy Richardson, director of capital construction said on Asbury's website. "It has been designed so that whatever students can dream, they can try. They can learn from that experience and take it with them into the world."
The building provides students with the chance to work in the same environment and with the same tools professionals use. The black box theater's varnished concrete floors allow film students to paint and change it for their sets. Large doors allow for cars and other large props to be brought inside the theater. The back lot, designed to look like a 60s-era main street, has a movie marquee, town homes and a fire station. Newsrooms have flat screen TVs that broadcast news and the building's lighting and airflow are ideal for filming and sound purposes.
Dedication
"Every day I pinch myself when I walk in those doors," Greg Bandy, assistant professor for the media communication department, said in the Business Lexington. "This is a great facility."
"To many of us, this building really does seem like a miracle," provost John Kulaga said at the dedication ceremony. "This facility is a game-changer for the institution. The Miller Center is positioned to serve as a center for new collaborations to take place across disciplines."
"We're thrilled for the realization of a dream and the great future for Asbury and the cause of Christ in the world," General Paul Rader (Ret.) of The Salvation Army and past president of Asbury University, said in a press release. "This new building will be a useful platform for equipping students to shape the culture for the kingdom."
After the ribbon cutting, president Dr. Sandra Gray discussed the symbolism woven into the Miller Center's architecture. Literal columns at the entrance represent peace, love, joy, holiness, evangelism, worship, prayer and other pillars of faith. Some of the windows have crosses in them while the circular ones represent the unending love of Christ. The windows are also significant because Asbury University refers to its students as "windows of opportunity."
"You students are a reason for hope," Gray said. "You have great confidence and enthusiasm, and you are ready."
The School of Communication Arts began as a minor in broadcast communications in 1982. Since then, it has grown into one of Asbury University's largest programs—from nine students to more than 300.
Asbury University broke ground for the center June 2009. The project was completed December 2010 and classes began in January.
Andrew S. Miller
The building's namesake was a fourth-generation Salvationist and had a long history with Asbury University. Born in 1923, Miller served The Salvation Army for 47 years, including three years as National Commander.
Miller was a student at Asbury in the 1940s. In 1986, the university awarded him an honorary Doctor of Laws degree. In 1998, the Andrew S. Miller Scholarship Fund was created to send Salvation Army students in the Southern Territory to Asbury University. Miller also was a guest speaker at many chapel and revival series events and served on the board of trustees for 30 years. Three generations of Millers are Asburians.
Miller passed away Jan. 19. His memorial service was Feb. 11 in Lawrenceville, Ga. C.E. Crouse, chairman of the Asbury board of trustees and Gray were among those attending.
Surviving Miller are his wife of 64 years, Commissioner Joan Miller; his children Commissioner Susan Swanson, Major Andrew Miller, Jr. and Envoy William Miller; nine grandchildren and two great-grandchildren.
"We honor his memory," Rader said. "He was a gifted Salvation Army leader, passionate evangelist, consummate communicator, holiness exponent and faithful friend of Asbury."
Miller was well known for his charismatic personality and magnetic preaching. In a previous issue of New Frontier, Robert Docter wrote, "Even casual, unplanned meetings became conversations in depth. I've rarely seen him without a spark in his eye, a bounce in his step, a smile on his face and a challenge in his voice."
Commissioner John Busby referred to Miller as a master of communication. "When he spoke he almost always took an unimagined route…[He] would immediately capture the imagination of his listeners and, with a peaked level of interest, one would wonder where he was going with his message.
"I heard him at church services, civic clubs, annual meetings, United Way meetings, music concerts, youth gatherings, camp meetings, officers councils and large congress meetings and he always 'rang the bell' speaking in a unique style," Busby said.
He also called Miller "a man of steel and velvet," meaning he was "firm as a rock and at the same time soft as drifting fog."
Busby wrote, "One senses [Miller's] presence when he is in a room. He brings an uplifting feeling to whomever he is talking with and he goes out of his way to mix with all the people in the room."
Miller is also remembered as the everyman. He was a guest of former president Ronald Reagan, jogged with Robert Kennedy in New York City and rubbed elbows with CEOs. He also talked with people on skid row and others in need.
"He had what I referred to as a table visitation ministry. At any banquet he would be found even during the meal going around the room talking to people," Busby wrote. "He made every contact feel important."
At the Miller Center's dedication ceremony, Major Andrew S. Miller, Jr. said the four things his father loved were family, The Salvation Army, Asbury University and Jesus.
The Salvation Army's U.S. territories helped raise the $1.5 million needed to name the Miller Center after the commissioner.
According to Busby, the university received the final donation needed for naming the Miller Center on the day of the memorial service.