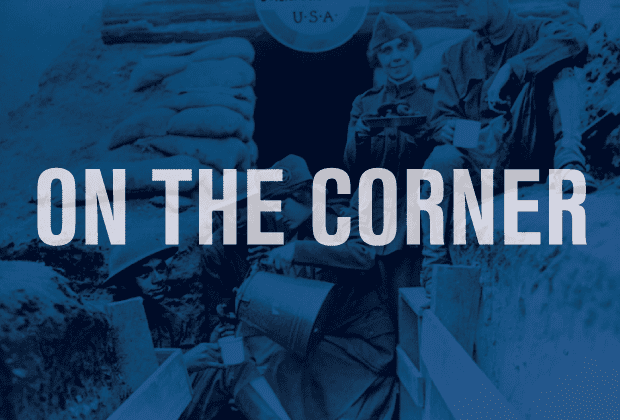 Taking stock
By Robert Docter –
My title, an old expression, means doing an inventory—figuring out what you've got on the shelves, what's moving off the shelves that people want to buy, what's currently attractive, and what's not going anywhere. Basically, it asks how are we doing in this enterprise?
It's a formal activity that provides answers that require criteria, not just numbers.
This year I will begin my 87th year and our Army turns 150 years old. We've come "a long way, baby." Both of us have matured—somewhat. I've seen many changes in how both I and the Army operate—some good and some questionable, in my opinion. The Army's double mission of spiritual and social change stays the same. The means have changed because the world has changed dramatically over that time period. Therefore, our movement toward that mission has changed somewhat as well.
In "taking stock" of me I sense that the periphery of my life, those matters close to the edge, seem to have shifted somewhat, but the fundamentals—how I live; how I relate; my gregarious, yet autonomous disposition; my belief systems; the product of my thought; my commitments; my love for Diane and the family we created; my hopes for the Army—these and many other characteristics remain constant. I have health, mind, spirit and drive as well as membership in a great health plan.
However, the exigencies of life make demands on me in various ways as they call on me. Maybe you hear some of those calls as well. I don't run as fast or as far. I don't even walk as fast or as far. On those occasions, my COPD (Chronic Obstructive Pulmonary Disease) reminds me that it's not a misdiagnosis. They call this lovely infirmity "the smokers disease." I want you to know that I have yet to take my first puff on a cigarette, cigar, pipe or any other form of unhealthy inhaler.
When in junior high I would walk past the assembly of eighth graders on the corner trying to look mature, waving their cigarettes in the air for all to see. I would just shake my head. I do not consider smoking a sin. I have avoided it for health reasons even when it wrongly advertised itself to be helpful to one's health. For me, I found it just plain stupid. My COPD arrived in my eighties not as the product of inhaling tobacco tars. It came because I lived in the "smogville" of Los Angeles in the 40s and 50s. Also, I ran the mile in high school and did considerable inhaling.
In looking back I've discovered my rich, full life contains many golden moments in the aging process. Here are some: building a family, wonderful friends, the Army, the Tab, the band, teaching an adult Sunday school class, failing my songster auditions, great corps officers, 15 wonderful grandchildren, one great-grandchild, a terrific twin brother, earning a Ph.D. at USC, becoming a professor, teaching for 50 years, sitting end chair in the band (I still do, but on the "other end" now), getting elected to the Los Angeles School Board, getting dis-elected after two terms because of my controversial stand favoring integration of the district after the Supreme Court labeled the district racially segregated, creating and building a professional team of journalists at New Frontier Publications, writing, and most especially, finding and marrying Diane 62 years ago.
God has let us live for 150 years in this Army. He must like us. He knows we are a bunch of human beings trying our best to do the right thing—to nurture sinners and expand their horizons; provide them support and encourage a continuing relationship. We struggle to reach the founder's "In Darkest England and the Way Out" goals. We tried many ideas as society changed its mores and values. I believe we have, for the most part, maintained a consistent status quo; we play it safe; we almost seem to fear visibility; we talk to ourselves. I think we're reluctant to risk or spend, yet some among us seek change and somehow accomplish the goal they are striving toward.
The most interesting and exciting experiment for change in my judgment is that by Territorial Commander Commissioner James Knaggs. He initiated a tighter connection between corps and adult rehabilitation centers (ARC). The beneficiaries come to the corps. They are not isolated in one chosen location in the building, and more than expected become members and soldiers. Families see the difference.
Last Sunday, an ARC client who completed the program and had attended the corps prior to graduation was having a hard time maintaining that attendance. He received the following text message from his daughter:
"Salvation Army helped you through soooo much. If it wasn't for them you would still be put away. You can't just forget. Let's wake up tomorrow morning and go to Salvation Army church. You should go once in a while. It's the place that got you with your family again. Let's wake up, drink coffee and go tomorrow morning."
Somebody tried something. It worked. Let's try more things.