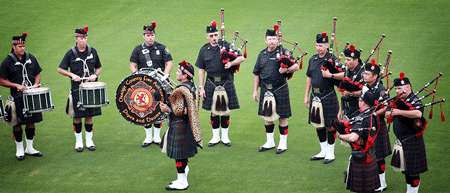 Tailgate party at the Rose Bowl
Firsthand account of The Gathering's Men's Rally
By Neil Saunders, Major
The Gathering's Men's Rally brought 2,300 men together on Saturday, June 9 at the 50-yardline of the Rose Bowl in Pasadena, Calif. With static displays from the Pasadena Police and Fire Departments for viewing and the aroma of the tailgate party food being prepared, we sat in the bleachers and enjoyed the posting of the colors by the Orange County (O.C.) Fire Authority Color Guard and music from the O.C. Fire Authority Pipes and Drums Band. With a baseball cap for sun protection and a bottle of "The Gathering" water, we were ready for the morning's program.
Warren Johnson, newly admitted to the Order of the Founder, led the event. General Linda Bond brought greetings, commenting that after wearing a green hat at the women's tea she was glad to have a baseball cap for a change. Commissioner James Knaggs spoke, as did National Commander Commissioner William Roberts.
Former Cleveland Browns football player Oscar Roan spoke. He shared Psalm 23, noting that we are like sheep that go astray and need to have the Shepherd rescue us with his staff to bring us back to his protection. But there is the staff that is used to give the sheep a hit on the head to get their attention—sheep like us. Sometime we have "knots on our head" because we wander away. At times the shepherd has to break the leg of the sheep to teach a lesson, but the shepherd carries that sheep. So it is with us—we need to pay attention to the Good Shepherd when he calls, guides and protects.
Afterwards, those who experienced a spiritual awakening were asked to stand and then speak and pray with the ones still seated. It was a moving experience to pray for and with another. Then we had a great meal of chicken, spare ribs and other goodies—a real tailgate party. We all felt blessed as we left.