Top three teams square off during Commissioning weekend. By Ivan Wild, Major Nine divisions participated in the 2011 territorial Bible Bowl season with matches that were closer than ever—all leading up to the finale during Commissioning weekend. In May, divisional winners met at
Parents and mentors honored at annual banquet. By Karen Gleason Each year, the Fellowship of the Silver Star Banquet honors parents or mentors of the graduating cadets. At this year's banquet on June 10, the cadets of the Ambassadors of Holiness Session
Tab Songsters perform concert prior to international tour By Joy Lee "Amazing Grace," a Friday evening concert at Commissioning 2011 at the Cerritos Center for the Performing Arts, proved a warm send-off for the Pasadena Tabernacle Songsters just ahead of the group's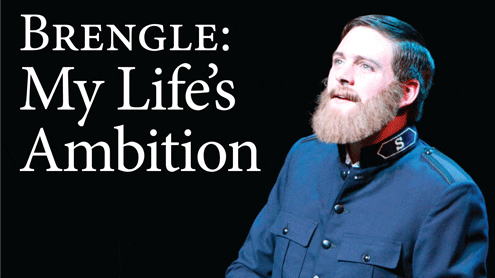 By Christin Davis Brengle: My Life's Ambition, a Saturday evening musical production at Commissioning 2011, told the story of Commissioner Samuel Logan Brengle featuring a cast of members of the Ambassadors of Holiness Session in 12 musical numbers and 10 scenes.
Trailblazer award recipient Paul Covington receives his plaque from Commissioner James Knaggs, Commissioner Carolyn Knaggs and New Frontier Editor-in-Chief Bob Docter during Commissioning festivities at the Cerritos Center for the Performing Arts. Other Trailblazer award recipients honored were Joseph Heston, Majors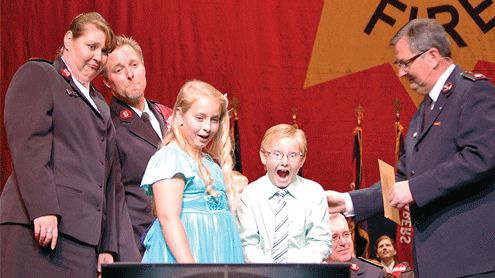 New lieutenants receive their first appointments. By Karen Gleason The most light-hearted and joyous meeting, the Service of Appointments, began this year with the entrance of the Territorial Executive Council and the College for Officer Training (CFOT) leaders, Majors Tim and Cindy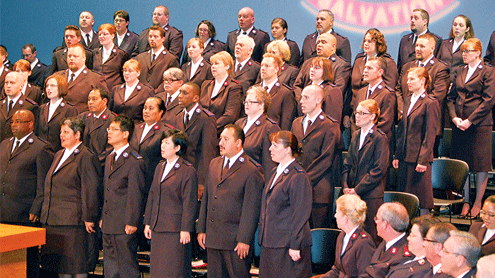 A Pentecostal ordination 52 Ambassadors of Holiness commissioned By Christin Davis On Pentecost Sunday, June 12, the 52 Ambassadors of Holiness were ordained and commissioned as officers in The Salvation Army as part of this year's "Spirit Aflame" Commissioning weekend. Pentecost—50 days following Easter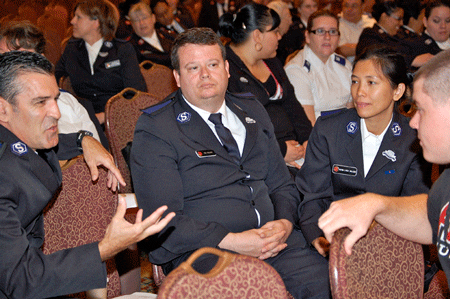 Workshops offer practical ideas and resources for spiritual life development. By Karen Gleason I remind you to fan into flame the gift of God, which is in you. …For God did not give us a spirit of timidity, but a spirit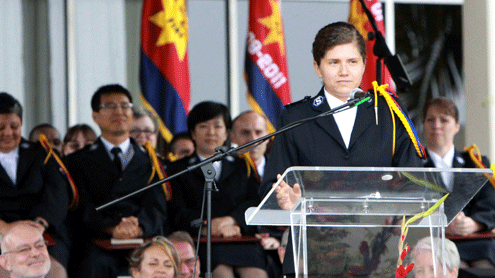 Excerpts from commencement address Two years ago, 73 of us moved into the College for Officer Training at Crestmont. Two years later, 82 will walk or be carried out! Six babies were born in our session over the last two years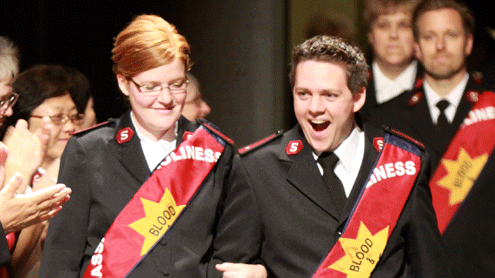 By Bob Docter Climaxing two years of education and training at the Western Territory's College for Officer Training (CFOT) at Crestmont, the Ambassadors of Holiness Session of Salvation Army cadets, 46 strong, marched through the college's rose garden June 10 to
Lt. Joni Alvarez , Lt. Joe Manuel Alvarez and family Chaplain, San Francisco ARC Lt. Austin R.E. Anderson and Lt. Nayomia Anderson Corps Officer, Haines, Alaska Lt. Stacy Antonovich Asst. Corps Officer, Santa Cruz, Calif. Lt. Carlos R. Armendariz, Jr. , Lt. Leilani Armendariz and family Asst.