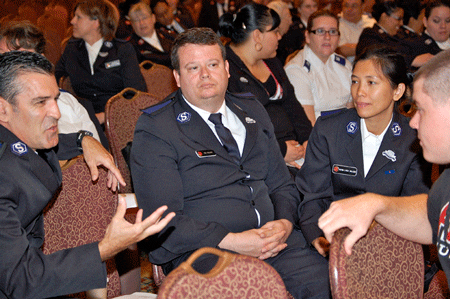 Fan the flame 'Called to be God's people '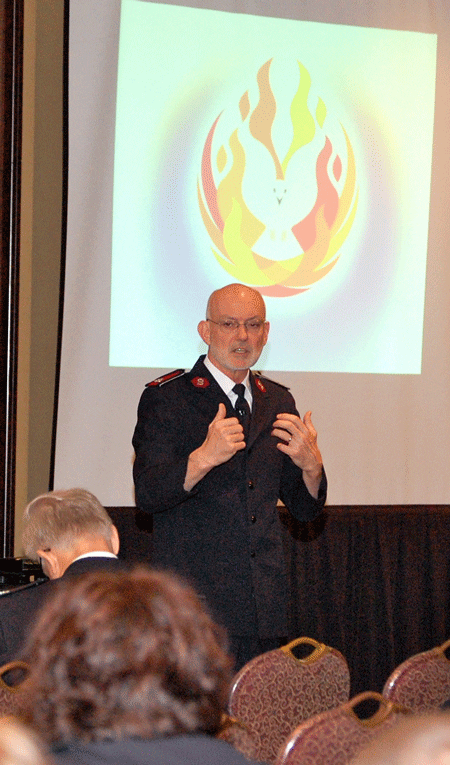 Workshops offer practical ideas and resources for spiritual life development.
By Karen Gleason
I remind you to fan into flame the gift of God, which is in you. …For God did not give us a spirit of timidity, but a spirit of power, of love and of self discipline (2 Tim. 1: 6-7, NIV).
What is the Holy Spirit saying to us? What is God calling us to do? How do we become sanctified?
Salvationists tackled these questions at the Spiritual Life Development Seminar on June 11, the Saturday morning of Commissioning weekend, in workshops led by special guests Lt. Colonels Richard and Janet Munn, the principal and associate principal, respectively, for the International College for Officers and Centre for Spiritual Life Development in London. Richard Munn also serves as secretary for international ecumenical relations and Janet Munn as international secretary for spiritual life development.
Richard Munn said, "All over the world the gospel is bearing fruit and growing in ways never seen before." He acknowledged the full room at the keynote session: "This is a symbolic statement and a warning to the enemy…the West is committed to spiritual life development."
Majors Glen and Linda Madsen, Western territorial spiritual life development secretary and associate secretary, organized the seminar. Captain Lisa Smith led a praise team that contributed worship music, including the theme chorus, "Fan the Flame."
Two artists, Carole Gooch and Kevin Dobruck each created from start to finish a painting inspired by the "Fan the Flame" theme. Their completed works were displayed in the prayer rooms, which remained open 24/7 throughout the weekend.
As sin increases, grace increases
In the keynote address, Janet Munn addressed the question, "What is God saying to us?" She exposed global atrocities, including gender abortion, live infant burial and children sold into slavery, and showed how Salvationists around the world—ordinary people empowered by God—are combating these evils.
"This communicates to heaven and hell," Munn said, "that we mean business about this war. We are a voice for the voiceless. …This is what God is doing through us in these days."
As Romans 5:20 says, where sin increased, grace increased all the more."
Munn challenged listeners to take America for God, recalling George Scott Railton and the "hallelujah lassies" and reminding everyone that nothing is impossible with God. She quoted General Paul Rader (Ret.), who said we have to grow stronger on the inside to battle the increase of wickedness on the outside. We must be intentional about this—we owe it not only to ourselves, but also to the world.
Munn shared the vision of the Centre for Spiritual Life Development, which commenced in July 2008:
*Every Salvationist involved in ongoing, intentional spiritual development, and
*24/7 prayer—a day and night cry for justice (SAglobal247.org).
"Indeed," Munn said, "the great need of the times in which we live and serve urges us onward in day and night prayer."
How long will the battle last? "However long it takes. When the Son of Man comes, he'll find the Army on its knees."
Spiritual Life Development workshops
After the united session, delegates could attend two of four workshops, led individually by the Munns: "Call to Life Together," which explored the biblical foundation of the people of God in community; "Call to Holiness," which examined the idea of holiness for everyone, every part and every day; "Call to the Inner Life," which presented a variety of spiritual disciplines that become life patterns, forming us in Christ's likeness; and "Call to Worship," which surveyed basic worship principles, seeking to fashion a Salvationist theology of worship.
The Munns encouraged participation, allowing time for questions and discussion.
Each of these workshops is a chapter in the book Called to be God's People, originally published by the International Spiritual Life Commission in 1999, revised in 2008, and now coming to life and bearing fruit. The book is available for download at https://tiny.cc/ryons.
Major Glen Madsen said, "We were blessed to have the Munn's publicly kick off the ministry of Spiritual Life Development in the Western Territory. Their presentations were a glorious personification of the core mission of Spiritual Life Development, which is to energize all ministries and people of the Army with the grace, mercy and power of God's presence."