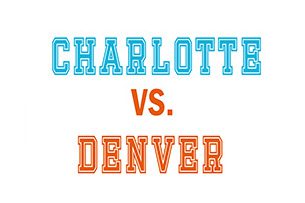 Support The Salvation Army Boys & Girls Club of Charlotte in its Super Bowl challenge

The Salvation Army Boys and Girls Club of Greater Charlotte is facing off against the Boys and Girls Club of Metro Denver in a fundraising challenge set to culminate on Super Bowl Sunday, February 7.
Each of the clubs is located in a Super Bowl city—Charlotte is home to the Carolina Panthers, while the Broncos hail from Denver. Whichever club raises the most money by kick off wins. Whichever club comes in second will have to don the opposing team's colors.
"The Big Game this weekend is the perfect opportunity for us to raise awareness and support for kids in these communities," said Marty Clary, executive director for the Salvation Army Boys & Girls Clubs of Greater Charlotte. "We hope, as a result of the competition, many will step up to improve the overall health and well-being of thousands of at-risk youth. And, of course, we hope our team wins on the field and off!"
Fans can pick a side by visiting bgcbowl.com.