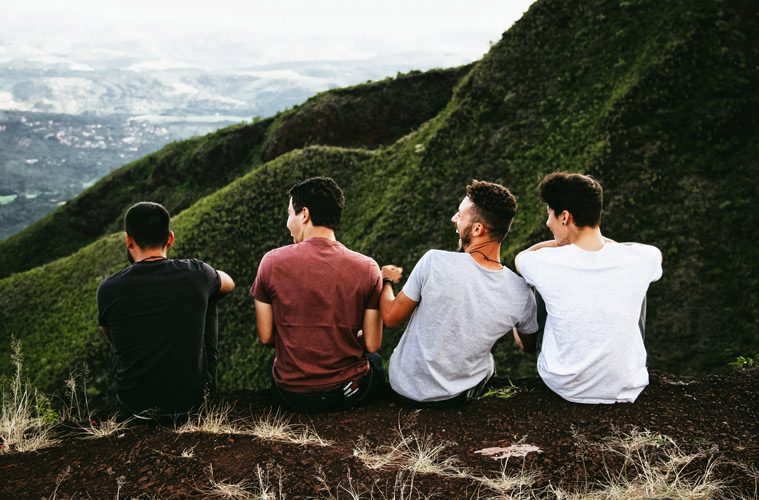 Such love: Part Two
The power of friendship from three perspectives  
A Scripture study from Caring, part two of three.
Part 2: Jesus
Behind the scenes
Read what Scripture says in Mark 2.
Beyond the surface
Jesus healed the paralyzed man, who had been carried to him by his friends, simply because of the faith and love they demonstrated. Jesus saw the need, and knew the healing was what the paralyzed man—and his friends—needed. Even more importantly, he knew that it would demonstrate his love and power, which would bring others into a greater understanding and relationship with him.
Prior to this story, Jesus spent time in Capernaum, where he did some miraculous things. He drove out demons and healed the sick. He even healed a leper—one of the most outcast members of society.
Scripture says in Mark 1: That evening after sunset the people brought to Jesus all the sick and demon-possessed.  The whole town gathered at the door, and Jesus healed many who had various diseases (1:32-34a).
News spread fast. A few days later, he returned to Capernaum, and the news of his miracles had spread throughout the town, to the religious leaders and the normal people, like you and me. The news generated a large crowd, and led to the friends needing to lower the paralyzed man into the home via the hole in the roof.
Maybe one of the most important parts of this story is the fact that once the outcast, the paralyzed man, arrived at the feet of Jesus, our Lord's first words were: "Son, your sins are forgiven" (Mark 2:5b).
Jesus saw this man as his own.
Jesus did heal the man of his physical problems. This was necessary, but it was secondary. Jesus healed the man to prove that he had the power to forgive sins. The visible (healing) was the proof that the invisible (forgiveness) had actually happened.
Isn't that true today as well? How do we know one is saved today except that they act and live like it?
The man got up and left. He had been in the presence of the Lord, and he left a healed man—a man full of peace and joy. 
He got up, took his mat and walked out in full view of them all. This amazed everyone and they praised God, saying, "We have never seen anything like this!" (Mark 2:12).
Between the lines
What do you need to be healed from?

How do you act and live like you've been saved?

What brings you peace and joy?
Pray
Pray for the things that you need to be healed from, emotional and physical, and in doing so give thanks to God for his love and peace that he can provide for you.
Sign up for the Do Good Digest, our weekly newsletter, and stay tuned next week for part three.
---
Do Good: