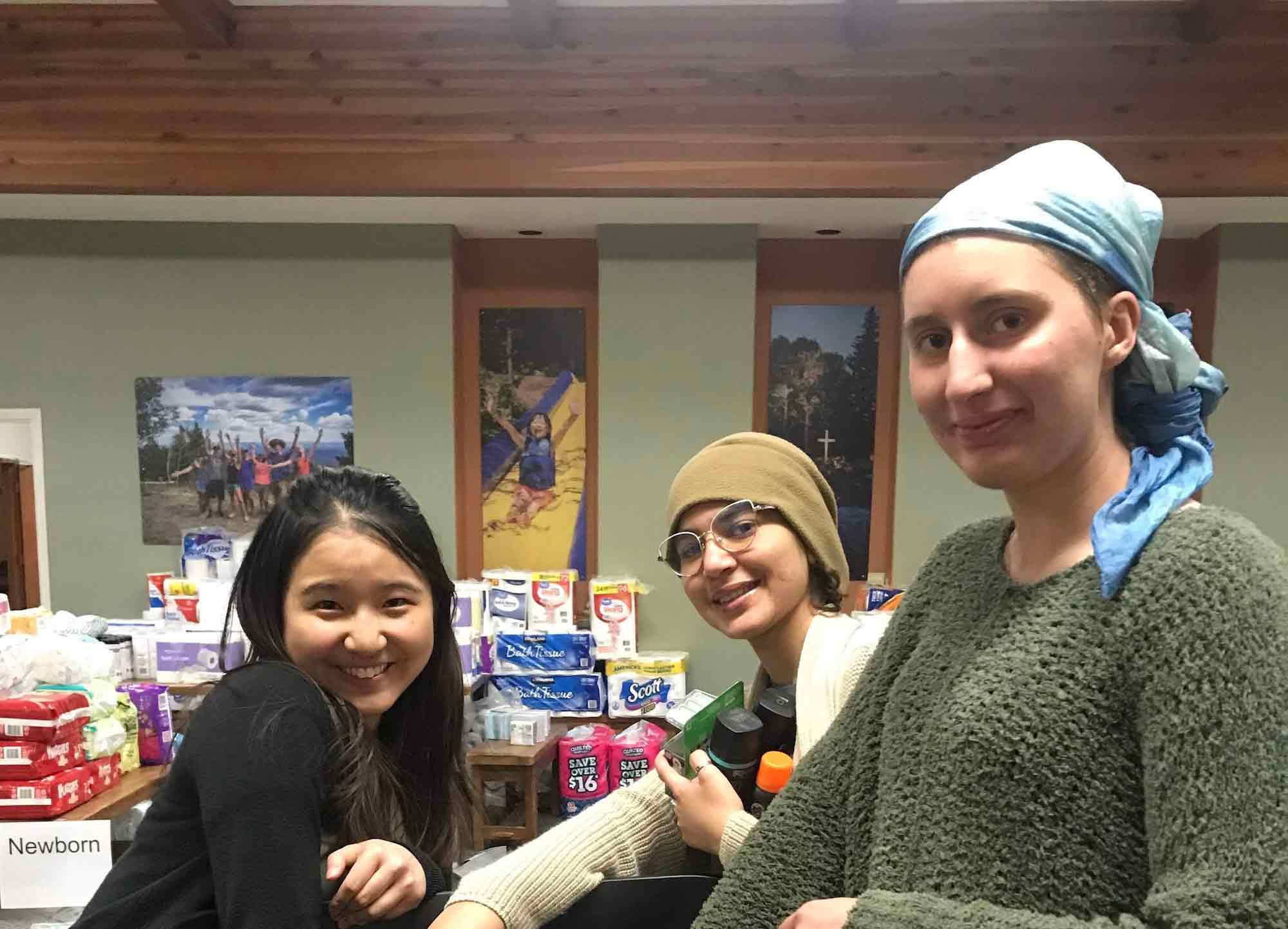 International student helps EDS during New Mexico's historic wildfires
One day, Tin Kit Au-Yeung (Autinn), an international student from Hong Kong, was attending classes at United World College (UWC)-USA in Montezuma, New Mexico. The next, she was evacuating with her classmates from the largest wildfire in the state's history.
The Hermits Peak and Calf Canyon fires started in April in the Santa Fe National Forest and were caused by prescribed burns. The two fires merged into one—burning through more than 335,000 acres. It had yet to be fully contained as of June 22.
"Before the fire spread toward our area, we were reminded several times to pack a 'go bag' for the possibility of being evacuated," Au-Yeung said. "On Friday, April 29, we were asked to leave our campus by 5 p.m. to New Mexico Highlands University for evacuation."
Due to limited capacity, the UWC-USA students relocated to Glorieta Adventure Camps in Glorieta, New Mexico, for shelter. From there, the school was able to continue teaching and conducting exams for the students while the evacuation order was in place.
At the same time, The Salvation Army Southwest Division Emergency Disaster Services (EDS) team was conducting the wildfire response out of the camp.
The organization handled donations management for San Miguel County before being approached by the State of New Mexico to take it on for the whole state. The Salvation Army had originally been operating out of a warehouse in Las Vegas, New Mexico, but had to evacuate when the fires got close by.
And the camp is where Au-Yeung first encountered The Salvation Army. She and her classmates saw the work that Southwest EDS team members were doing to receive, sort, pack and distribute donations and wanted to help.
"They loved to come down for snacks between classes…but then they'd stay and they'd hang out and help us, and that's how I met Autinn," said Nicole Kanne, Salvation Army Southwest EDS Director. "[When] we had donations coming in, she would help organize and sort and she had one of our vests on and she was helping [people] pick out things they needed."
Au-Yeung looked forward to helping out and volunteered the entire month that she and her classmates were at the camp shelter.
"Amidst our exam season, going into the donation center and volunteering was one of the most [de-stressing] activities I could find," Au-Yeung said. "Every afternoon after classes were over…I would drop by the donation center and see if there were any newly delivered bags ready for categorization."
She'd been wanting to volunteer in the community while she was in school, and got the opportunity to do so with The Salvation Army.
"Since our arrival at Glorieta, I always wanted to give back to the displaced community through volunteering…Some people have lost their homes…and some people live in uncertainty not knowing if their shelters are still standing," Au-Yeung said. "The only tangible and impactful thing that was within my power was to simply help in the kitchen with cooking and in the donation center sorting out donated items."
And the volunteer experience was rewarding for Au-Yeung.
"I was able to meet many amazing people…Talking to them, listening to their personal stories and sharing our daily updates with one another was always the most interesting part of my day. I would never have thought of building all these wonderful friendships with so many beautiful souls," she said. "Seeing the rising number of packages delivered to the donation center, I felt the genuine love and support people have for the community—a community that I am proud to call home."
A moment Au-Yeung remembers clearly was when she was unboxing Amazon packages that had arrived at the donation center.
"While I was unboxing, there was an "A Gift for You" memo in one of the packages. '[New Mexico] is the place my heart feels most at ease. I'm sorry I cannot give more,' this person wrote. The message warmed my heart," she said. "With the largest wildfire raging on an unprecedented scale, I could still witness and feel the kindness and love people have for one another."
Once the Glorieta camp shelter closed, The Salvation Army returned to the Las Vegas warehouse to continue its work until the job was done. Southwest EDS recently demobilized after 53 days in the field and now the focus is on recovery.
Throughout its efforts, The Salvation Army served approximately 58,000 people. It distributed more than 9,500 cases of water, 40,000 hygiene items, 53,000 food boxes and 37,000 baby items, among other items.
And they received the support of others along the way. In addition to Au-Yeung and the rest of the UWC-USA student volunteers, they also had the help of the New Mexico National Guard and other fellow New Mexicans.
"It was really uplifting to see people in need also helping their neighbors," Kanne said.
Kanne hopes that The Salvation Army left a lasting impact in the weeks they were in New Mexico.
"New Mexico is a vast state, and we have corps throughout the state—they're just far apart," Kanne said, noting that for some, the response was probably their first encounter with The Salvation Army. "We're just trying to help the community when it's at its lowest…I really hope that we've made an impression on the communities in Northern New Mexico."
---
Do Good: