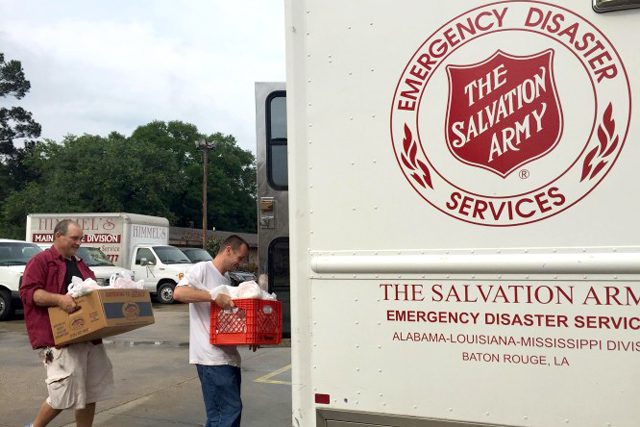 Salvation Army responds as storms wreak havoc across Gulf Coast
The Salvation Army of Alabama, Louisiana and Mississippi have responded to four separate emergency situations across the division due to severe weather.
On the Alabama Gulf Coast, a sudden storm with high winds caused an annual boat regatta to end in tragedy Saturday evening just off  Daulphin Island near Mobile, Ala. The storm capsized several boats leading to at least two deaths. The Salvation Army of Coastal Alabama responded to help serve food, drinks and snacks to local law enforcement and Coast Guard officials who are searching the Mobile Bay for missing boaters. To reach searchers, The Salvation Army loaded a Mobile County Sheriff's Office boat with food and drinks to take out to the law enforcement agencies.
"It's just one less thing they have to worry about," Patricia Finkbohner said, Salvation Army director of development and community services. "They didn't want to come in and take a break, they really wanted to stay out and search."
The storms also affected residents near Dothan, Ala., where several families have been displaced due to the storms. Majors George and Patty Price, along with employees and volunteers, started by serving dinner out of a local gymnasium. Their operation have since expanded to serving lunch and dinner. The Dothan Corps is also providing drinks and ice for the nearly 800 homes that lost power.
"This is what we do," said George Price. "The need was there and we simply stepped in to help."
The Salvation Army is providing emotional and spiritual care to family members who are waiting for their loved ones to be found. Rough weather Monday led to a possible tornado touchdown near Baton Rouge. Power was knocked out to several thousand residents in and around the area. The Baton Rouge Corps responded with a canteen to one of the hardest hit areas in Killian, La., and passed out food bags.
"Many folks are without power and may not have been prepared for this storm," said Captain Brett Meredith, commanding officer for The Salvation Army of Baton Rouge. "The Salvation Army will be there to meet these immediate needs, and we will be there as long as residents need our help."
The same storm to blow through Baton Rouge also caused wind damage and flooding in New Orleans. At the New Orleans Area Command, the Center of Hope lost power. Major David Worthy and the overnight staff manned their crisis stations at the facility throughout the night to make sure the residents stayed safe and secure.
"We used our disaster canteen truck to power fans and portable lights to shed a little light and move a little air around to keep things more bearable," Worthy said.
Power has since been restored to the Center of Hope in New Orleans.