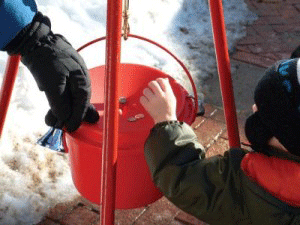 Stores that welcome the Red Kettles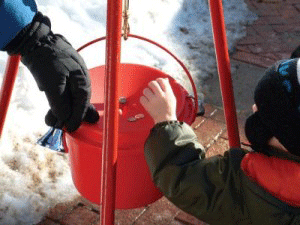 Shop them often this year!
For 120 years, The Salvation Army Red Kettle has been an important symbol of Christmas giving.
The kettle is also a reminder that as long as there are people who lack the necessities of life; our Army will be here to help.
We're so grateful to you for the financial gifts you put in the kettle and for the stores that welcome our bell ringers.
Here's a list of the stores that have said yes to the kettle again this year.
Albertsons—California, Idaho, Nevada, Montana, Oregon, Washington, Utah and Wyoming
Bi-Mart—Idaho, Oregon and Washington
Big Lots—Arizona, California, Colorado, Idaho, Nevada, New Mexico, Montana, Oregon, Washington, Utah and Wyoming
Fred Meyer—Alaska, Oregon and Washington
Fry's Electronics – Arizona, California, Nevada Oregon and Washington
Hobby Lobby—Arizona, Colorado, Idaho, New Mexico, Oregon, Utah, Washington and Wyoming
JCPenney—Alaska, Arizona, California, Colorado, Hawaii, Idaho, Nevada, New Mexico, Montana, Oregon, Washington, Utah and Wyoming
Kroger—Alaska, Arizona, California, Colorado, Idaho, Nevada, New Mexico, Montana, Oregon, Washington, Utah and Wyoming
Macy's/Bloomingdales—Arizona, California, Colorado, Hawaii, Idaho, Nevada, New Mexico, Montana, Oregon, Washington, Utah and Wyoming
Raley's—Northern California
Safeway—Alaska, Arizona, California, Colorado, Hawaii, Nevada, New Mexico, Oregon, Washington and Wyoming
Sam's Club—Alaska, Arizona, California, Colorado, Hawaii, Idaho, Nevada, New Mexico, Montana, Oregon, Washington, Utah and Wyoming
SaveMart—Northern California
Shopko—Northern California, Idaho, Nevada, Utah, Washington and Wyoming
Stater Bros.—Central and Southern California
Walgreens—Alaska, Arizona, California, Colorado, Hawaii, Idaho, Nevada, New Mexico, Montana, Oregon, Washington, Utah and Wyoming
Walmart/Sams Club—Alaska, Arizona, California, Colorado, Hawaii, Idaho, Nevada, New Mexico, Montana, Oregon, Washington, Utah and Wyoming
Keep in mind, just because you don't see your favorite store on the list doesn't mean you won't find our kettles there this year. Independent stores, small regional chains and special venues will often host kettles